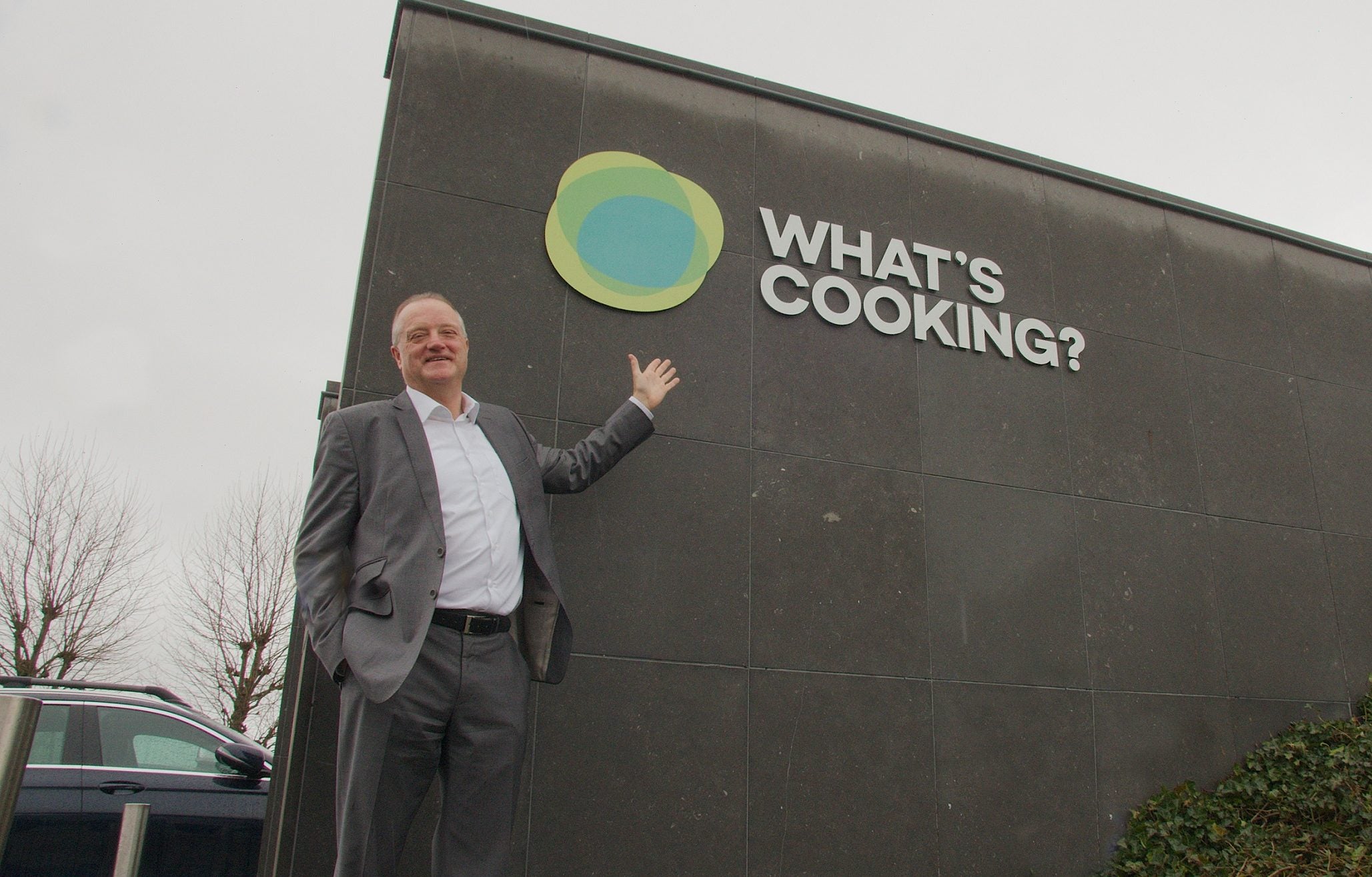 In March, European sliced meats and ready meals maker Ter Beke unveiled a new name – What's Cooking? – and a fresh strategy for the business.
Drawn up by CEO Piet Sanders, who joined the Belgium-based business in October 2021, the strategy includes efforts to add more vegetable-based and locally-inspired products to its range.
What's Cooking? also has a series of goals to try and become "more sustainable", including a target for plant-based sales.
Just Food sat down with Sanders to discuss the new strategy, his thoughts on demand for plant-based products and on current trading. The interview was held just days before competition officials in Belgium indicated they could push back on the company's deal – struck in 2021 – to acquire European meat processors Imperial Meat Products and Stegeman.
Just Food: What's Cooking? – why the new name?
Piet Sanders: Of course, this was not a project to invent a new name. It was a strategy exercise that we started in January last year. The reason we finally chose What's Cooking? – with a question mark in the name on purpose – was because it reflects best what a company in our position should do. We're still processing a lot of meat. It's under pressure, etc, so we looked at the rapidly-changing world and said: 'We should be doing this all the time. We should ask our questions to our stakeholders, suppliers, customers, employees, consumers, shareholders.' It's really a company name – and we say 'company', not 'corporate'; I don't like the word 'corporate' too much – that expresses that we will always be open, ask ourselves questions, not pretending we have the monopoly on the truth. And, it's of course, a sneaky way of linking to food. What's Cooking? shows a link to food but for you, as a native English speaker of course, it's also a funny way of asking 'What's up? What's going on?'
JF: And one of the things going on at the company is a strategy to grow your sales of vegetable proteins, of plant-based products. What's the rationale there?
PS: The strategic rationale is of course sustainability. We want to lead our industry in sustainability. Meat of course has a big footprint and it's continuously under pressure. Secondly, we did consumer research, of course, and there we see that the younger generations, they are really going much more into less meat – and I choose my words carefully, less meat – meaning that we need to offer them alternative proteins. I understood that quite a few years ago that was a difficult topic for our shareholders but we've also shared with them the changing world, the consumer research and they warmly accepted our strategic redirection and our target to have at least 15% of our products plant-based by 2030.
JF: What's the percentage at the moment?
PS: Barely five.
JF: Do you think you could get to 15% solely through organic growth, innovation? Will you need M&A?
PS: We're still waiting for the approval of Imperial-Stegeman. We'll see how that one lands but this is really first an organic growth story and we are investing in resources, in R&D, in marketing.
However, I don't exclude [M&A]. You never know. If the right opportunity comes by, we might look into that but things are cooking, thank God, so we now already have listings for some new savoury slices, plant-based. There are things in progress. In ready meals, we've launched vegetarian lasagna, we're almost ready to launch a vegan lasagna. Of course in the UK, [our local business] formerly known as KK Fine Foods – has a tradition and its roots even in plant-based meat. That's the entity where we have already today a higher share than 5%.
JF: What's your take on the slowing growth seen in plant-based meat alternatives in markets like the US and the UK?
PS: First, often it's about affordability in terms of inflation. Not all but quite a lot of these products are still more expensive than meat, even though meat is becoming more expensive, so that gap is surely closing.
Secondly, often taste. I don't want to talk bad about products. You do your first purchase with your eyes and your beliefs but your repurchase comes after experiencing the taste, the texture. I think that's probably one of the reasons why some of these items don't grow anymore, or grow far less than they did before. There we hope – and again, we need to remain very humble because we're not yet big in those things – but we hope that we can find products that are of course sustainable, more affordable and indeed different and tasty.
In cold cuts and spreads, we can definitely still move the needle towards better taste and texture. Some of the things we have in the pipeline, knocking on wood, seem to confirm that. In ready meals, there's still space for better products. We're not going to launch our own plant-based hamburger tomorrow. It will be more on global heroes, on local heroes, where we have a meat version and a vegetarian or even vegan alternatives.
JF: Local products are another part of the product development strategy at What's Cooking?
PS: We are looking, for example in France, at a very popular homemade dish. We are launching Hachis Parmentier. Hachis Parmentier is something housewives in France like to make. It's mincemeat, with mashed potatoes on top of it and gratinated with cheese. That's a product we've listed with a French retailer. Any day that will appear. I won't tell you too much more because a couple of things are coming. I don't want to bring our competitors to our ideas but, for example in Poland, we've identified a local meal, offering convenient alternatives to what people tend to make at home in their countries.
JF: Meat products will still be the majority of your revenues even as you try to hit the plant-based target for 2030. It seems as though local dishes are one way the company is looking to keep its meat products business growing.
PS: The strategic aim is not to keep meat products growing. The strategic aim is really to offer tasty and nutritionally balanced alternatives to what people cook at home. Yes, people still prepare meat dishes at home so we do that. The strategy is 'local heroes' meaning what people know at home and where we can offer a convenient, tasty and nutritious alternative.
JF: Looking at the two business units, savoury was around 56% and ready meals 44% of net sales in 2022. Is that the kind of balance you expect to continue to generate over the next two, three, four years?
PS: It's hard to say. We've of course got some growth projections. I won't share those. We're a listed company. If you look at it with the glasses of today, the market of savoury slices and spreads is declining. And we see the impact of course of inflation and meat products becoming expensive. Whether it's sustained or not we'll see but we do see some impact on volumes, especially in the Benelux, which is our core market.
That doesn't mean we intend to decline along with the market. We'll see how that one is cooking out. Ready meals, of course, remains a growth category. We invest in central and eastern European markets, where people have less time to cook at home and where both global and local heroes still have quite some growth potential. There more and more [households] have double incomes and both have jobs. The housewife waiting for the man to come home from the factory and cook his meal is also in central and eastern Europe a declining family situation and we, therefore, see growth. More than that, I can't answer your question.
JF: On ready meals, will volumes rise in 2023?
PS: Volumes depend on qualitative things. If summer is again so hot, people eat less lasagna so it's difficult to forecast. We aim to get back in touch with the underlying EBITDA of '21 which was, of course, far better than the one of '22 on the ready meals business. So we still stand by that. Volumes, it's not so easy to put a statement on that one. We'll see.
JF: What about cost inflation? How would you describe that pressure at the moment?
PS: Unfortunately, still there. A lot of our workforce is in Belgium. Probably half our workforce. Belgium is one of the few countries left where there is an automatic legal salary indexation. We had an almost 11% salary indexation to digest for our entire workforce. That's a huge number. We still suffer from that and also, in other countries of course, there are negotiations and adaptations in line with the rising cost of living.
Also, energy of course, we have taken some hedges [but] even though the spot markets have come down a little bit, they're still way above pre-Ukrainian war levels, so we're not out of the woods there either.
And then selling products. We want to become a more sustainable country and we indeed are interested in sustainability. We want to fight climate change because we are affected by climate change. The failed crops in southern Europe on many vegetables – tomatoes, eggplant, etc., – the prices have exploded for a lot of these crops because the availability wasn't there. We had stressful moments finding everything that we needed to produce our ready meals with some of these vegetables.
Some things have come down a little bit, some packaging materials, not all, some dairy ingredients – after an incredible rise – have quieted down a little bit but, unfortunately, the overall impact, especially salary-wise is still massive. I was one of the first to say well before last summer that in January this year there would be a massive inflation and it's happening. There is food inflation because you have the delayed charges and, to some extent, a vicious self-inflicting circle of salaries, so you create again inflation. We're not out of the inflation era yet.
JF: Were you able to recover all of your cost increases last year through price rises with your customers? And what's your pricing strategy for 2023? Are you looking to raise prices again to help cover the current pressure?
PS: We passed on some of the inflation. We're always passing it on a delay because that's unfortunately the aim of the game especially if you're dealing with retailers, like we to a large extent do. It is a difficult relationship sometimes. We've always been transparent with our customers. We've tried to build a real partnership and we've worked out with quite a lot of them. In some places, there are some kind of delay mechanisms built into the pricing. Of course, if pork prices go up during one quarter you've lost in a manner of speaking three months. You're delayed before you can pass on that price. The good thing is there are quite a lot of customers that understand that there are some key cost factors. Of course, if those parameters would come down again, then you also transparently relook at pricing also in the other direction.
JF: We've seen some debate around 'greedflation', the idea that some manufacturers are exploiting the inflationary pressures in the market and generating excessive profits. What is your opinion on that?
PS: I think that is mainly referring to the huge, multinational, branded companies. That [debate] was also here in the Belgian press. We are to a large extent, a private-label operator and it doesn't work in that field. I think it's these huge branded companies that can do that but not What's Cooking?
JF: What's the latest on the proposed deal to buy Imperial-Stegeman? And, more broadly, how much of a priority is M&A for What's Cooking?
PS: I think we really wanted to, I can even say, refocus on organic growth because it was mainly that the group hadn't focused enough on investing in innovation. We're rebuilding innovation to generate organic growth. Am I saying that we exclude acquisitions in the future? No but it's not that the What's Cooking? team is on the hunt for acquisitions.
On Imperial-Stegeman, the authorities are still studying [the deal] both in the Netherlands and in Belgium. I hope that in the months to come we'll finally have clarity.
We have a strategy. We have our strategic beliefs. We have our plans already in implementation. If Imperial-Stegeman happens, great. We then have some accelerators on some elements of the strategy. If it doesn't happen, not a problem. We have our own strategy, we know what to do. We can quickly accelerate a few things ourselves organically internally. After all these months of waiting, we haven't waited [on our new strategy]. We've put things in motion, so that What's Cooking? can perfectly progress without Imperial-Stegeman if, in the end, the authorities do not approve it.