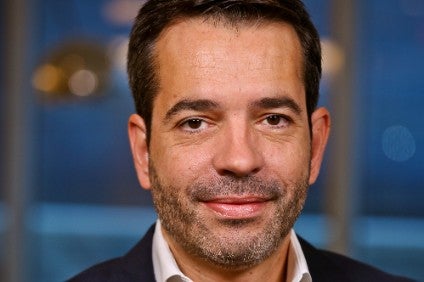 Nestlé this week (31 July) officially opened the new headquarters for its operations in the US, proclaiming the move a "catalyst" for its "transformation" in its largest market by sales. In 2017, the Lean Cuisine and Gerber maker saw its growth stall in the US. How is the food giant looking to kick-start its business in a market going through profound change? Dean Best caught up with Rui Barbas, chief strategy officer for Nestlé's US arm, to find out more.
Amid the changes in consumer habits in the US in recent years, it has been the fortunes of the country's domestic, legacy, food manufacturers that have tended to be in the spotlight, from the pressure on sales at the likes of Kellogg and General Mills to the consolidation that has occurred – in fits and starts – between some of the major players, most recently exampled by Conagra Brands' move for Pinnacle Foods.
However, the world's largest food maker, the Switzerland-based giant Nestlé, is also among the members of Big Food that need to adapt to the changes in the way consumers eat and shop.
The US is by far Nestlé's largest market by sales. In 2013, Nestlé generated CHF23.33bn (US$23.47bn) – or a quarter – of its total CHF92.16bn in annual sales in the US. Last year, the maker of products including Lean Cuisine meals, Gerber baby food and Nespresso coffee banked CHF26.68bn in sales from its business in the US, of total sales of CHF89.79bn, equating to just shy of 30% of its worldwide business.
Nestlé is present in more than 190 countries but the US has become a larger slice of the business over the last five years. However, even after excluding the under-pressure confectionery business sold at the start of this year, Nestlé's sales in the US were flat in 2017 versus 2016.
The world's largest food company pointed to "soft consumer demand" and "challenging category dynamics" in the US for that muted performance but, with categories such as plant-based and organic gaining steam, with smaller brands making further inroads into the market and with e-commerce showing signs of taking hold, it was clear the business needed to act.
And it has, making a series of investments in the last 12 months or so, from buying smaller, more on-trend businesses outright (see plant-based firm Sweet Earth or coffee company Chameleon Cold Brew) to a major licensing deal with Starbucks and to taking stakes in the likes of coffee retailer Blue Bottle Coffee and US online meal-kit service Freshly.
For Rui Barbas, the chief strategy officer for Nestlé's US division, the way consumer demand and habits have developed meant the company had to adapt. "The whole business environment around us is changing very, very fast. It has picked up a lot of pace over the last five or ten years. As the consumer is evolving around us … we have made a strategic evolution of our portfolio."
Barbas has worked for Nestlé since 2007, joining the group's corporate strategy team in Switzerland before moving across to the US in 2011. His current job as chief strategy officer is his fourth within Nestlé's US division, with is previous roles in innovation and, predominantly, strategy. He says the speed at which the market is changing is "a monumental challenge" for an organisation the size of Nestlé.
"This pace of change that is around us is forcing our own disruption internally," Barbas says. "If you look at our organisational structure these days compared to how it was five, ten years ago, it's much flatter in terms of organisational levels, [it's] much more agile, it's less siloed. It's much more of a cross-functional organisation going after consumer and customer opportunities.
"What was required five, ten years ago is not what's required these days from an organisational standpoint. The rule of the game is all about agility and bringing the right cross-functional talent and breaking functional silos to go after opportunities."
Agility has become one of the buzzwords as food manufacturers big and small look to adapt to the changes in the marketplace. But can an entity generating almost CHF27bn in sales be agile? Can an entity that is part of the largest food company in the business act quickly enough to tap into the changing demands of its customers and consumers?
"Is it more complicated than when you work for a start-up? Absolutely. When you are a ten, 20, 30-person start up, agility is a much easier concept than when you have a fully-scaled operation like we have here with 23,000 employees," Barbas says.
But he points to how Nestlé's US division is now working on innovation as an example of how a company of its size can be more agile. Staff within Nestlé's US arm are, Barbas says, being allowed to effectively create what he calls "their own start-ups with Nestlé USA".
"They operate as if they were a start-up within a big organisation like Nestle USA, where we bring a cross-functional team empowered to work fast and to launch products fast in the marketplace. Our experiments over the last 18 or so months have proven to us we can be much faster than what we thought a big food and beverage company could be," Barbas says.
"We will never be as fast as a start-up, but also start-ups don't have the capabilities that Nestlé has across categories, across the different elements of the value chain. If we create the ecosystem for us to be our faster and we couple it with the capabilities of a big company like Nestlé, I mean, we are really hard to stop."
Is, then, Nestlé trying to create a culture of risk-taking within its organisation? One of the reasons larger companies can fail to adapt quickly enough to changes in their market is they can be too cautious, less ready to place bets and less prepared to accept mistakes in areas like innovation.
"There is certainly more risk-taking, absolutely," Barbas insists. "When you want to be more agile, want to be faster, you need to break hierarchies, you need to break the silos and you need to accommodate a higher level of risk.
"It comes all the way from the top, from our global CEO Mark Schneider. If we do it in a strategic and controlled way, that risk is affordable for a company like Nestlé. We just need to do it in the right way. It means that our employee base needs to be empowered to take risks and to bring things to fruition that maybe ten years ago they were not set up to do."
Barbas also emphasises how he believes Nestlé already has brands in its portfolio that can compete with the upstarts deemed to be more on-trend. It is, he argues, not about "old brands versus new brands".
"Frankly, I do not believe that's what's driving the success of start-ups. What some of the challenger brands have done is they have reacted faster to what the consumer is doing. There are either brands who are relevant to consumers or brands who are not relevant to consumers. It's not because we have heritage brands that we cannot have the consumer appeal that some of the challenger brands have had. It's all about being consumer-obsessed and being consumer-led," he insists.
"Old brands – or heritage brands, and we have great examples in our portfolio, if you think about brands like Häagen-Dazs, Coffee-Mate, Nesquik – these brands are growing extremely fast in the US. And not just growing. They are getting a lot of market share. That just tells me that when we do innovation right and we are consumer-led, there is no old brands versus new brands. That's my personal perspective on the topic, and I know Nestlé concurs with it."
Trying to grow organically, through areas like innovation, is one way in which Big Food can try to claw back some of the ground lost to the upstart, challenger brands that have eaten their lunch in the US in recent years. Another strategy, of course, is if you can't beat 'em, buy 'em.
In the last year, Nestlé has demonstrated an appetite for M&A in the US, moving for businesses including for vegetarian food maker Sweet Earth and coffee business Chameleon Cold Brew to tap into more buoyant parts of the market. As you'd expect from a business that sees it must adapt to the changes in the US marketplace – and one coming off a year of flat sales – that appetite has not been sated and Barbas outlines what attributes a challenger brand must have to be of takeover interest to Nestlé.
"They need to be playing in an attractive territory for us – not just attractive right now but a territory we believe is going to be structurally healthy going forward. Then we look at their ability to win. We're always trying to acquire leverageable growth platforms.
"Look at Sweet Earth, an asset that after six months it had launched a pizza because we [already] had that capability. We are always trying to look for the right territories and leverageable brands, something we can leverage across different territories. That's when it hits the sweet spot for us," Barbas says.
"It's also about the team that we acquire. All these acquisitions we have done over the last few months, the management teams continue to be in place. That's fundamental, that's kind of a non-negotiable for us. They continue to manage the business in an autonomous way, we don't want to impact the secret sauce of those start-ups.
"What we do very quickly, as they manage the business, we bring our suite of capabilities, where can we help them to reach their full potential, supporting supply chain, sales, product quality, whatever it might be."
However, as active as Nestlé has been in the US, snapping up challenger brands like Sweet Earth will not, at least in the short term, have a material impact on the division's top line. Is Nestlé on the look-out, too, for larger acquisitions? The company was, after all, linked to US group Hain Celestial, home to brands from Earth's Best baby food to Terra Chips snacks, last year.
Barbas refuses to be drawn specifically on Hain Celestial but says indicates Nestlé would consider bigger deals.
"There is not one single M&A model, right? It's not that we're just acquiring small companies or just acquiring big companies. We've been very active when it comes to strategic acquisitions of smaller-sized companies but look at the acquisitions of Purina or Gerber. We are familiar with different sizes when it comes to M&A" Barbas says. "Now, I cannot comment any further on future M&A activity but what I'm trying to tell you is there is room for different size M&A deals if the opportunity is the right one. The lens is always the consumer. If, from a consumer standpoint, the acquisition makes sense for us and we can expect shareholder value from that acquisition, irrespective of the size, Nestlé will look at it."
There is obviously work to do for Nestlé to get its sales growing in the US but, in the last 12 months, the company has demonstrated it is trying to adapt to the changes in the marketplace.
Barbas is coy when asked if Nestlé expects to finish 2018 with its sales in the US again on the rise – "What I can reaffirm is what was said during our half-year results, it's public information and Mark Schneider made some comments. Zone Americas is growing and actually we've seen positive organic growth in North America" – but he is open about the marketplace facing the business as he looks into the rest of the year and beyond.
"I've never seen this pace of change in the industry. Who am I to predict anything going forward? I'd probably not be at this table if I could, if I had a crystal ball. But I think that pace of change will further accelerate. I don't think it will be ever again as slow as it is today."