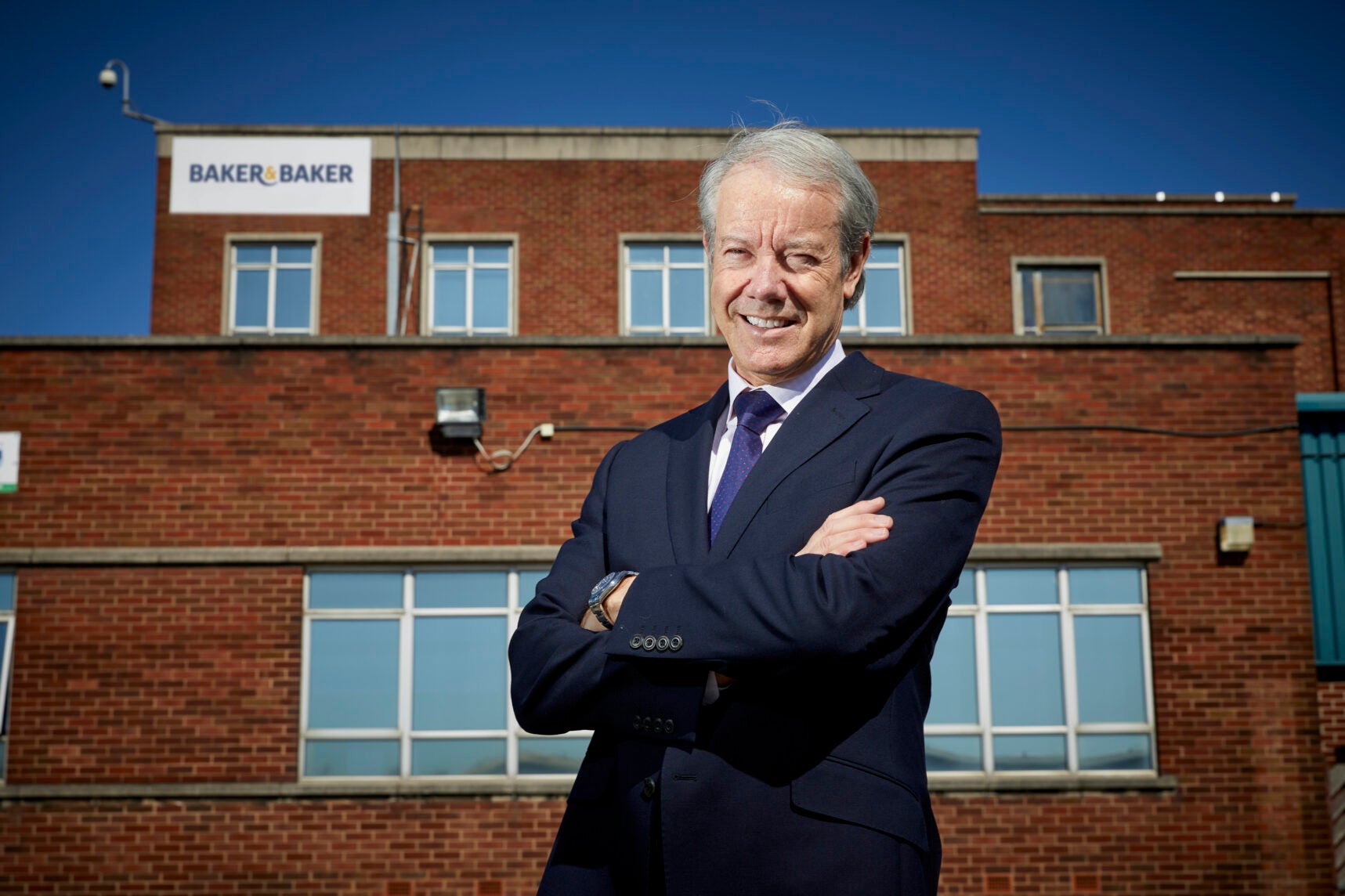 Baker & Baker is a UK-based supplier of sweet baked goods doing business across Europe and the Middle East. Backed by private-equity firm Rhône, the company has 13 manufacturing facilities in seven countries, where it makes products like brownies, cookies and donuts for retail and foodservice customers.
The group, headed by industry veteran John Lindsay, generates the bulk of its turnover from the UK and Continental Europe. It has recently added to its portfolio through M&A and is eyeing further deals.
Just Food sat down with Lindsay to discuss Baker & Baker's ambitions and its plans for growth amid pressure on costs and concern about consumer spending.
Just Food: If we look at the turbulence around the UK economy and the political climate at the moment… well, what a time to be doing business.
JL: It's challenging to say the least. The only thing I would say is, if you look at our products – and we look at bakery in general, sweet treats – they're still relatively affordable, even after the inflation that we see. I think the thing is to work with the retailers to make sure the offering is still relatively competitive. So far, certainly the numbers we saw to the middle of September, in-store bakery generally – and sweet bakery – was holding up a lot better than the rest of the store. General grocery was up something like two or three per cent. If you factor inflation into that, it probably means volumes went backwards. When we look at our volumes into in-store bakery – and if you look at in-store bakery generally – it's holding up.
JF: What are the main inflationary pressures Baker & Baker is seeing?
JL: Sugar is at an all-time high and still climbing. Packaging materials, because they're energy intensive as we look forward into '23, we still see significant increases there. Then you've got commodities like dairy and chocolate, which are still at all-time highs and climbing. We've seen some relief on edible oils but not enough to offset increases elsewhere. And then, of course, labour, particularly across continental Europe, is also a factor.
Whilst the inflationary pressures we see now are nothing like they were earlier this year in '22, the inflationary pressure is still there. The jury's out a little bit on energy. There's a variety of measures across Europe, country by country. Some countries are helping consumers but haven't done anything for industry. Some are putting caps on it. We do have a bit of certainty in the UK but, of course, consumer–wise, longer term, there's still an element of uncertainty.
JF: How do you seek to manage that ongoing cost pressure? What kind of levers can you pull?
JL: Classically, reformulation is a go-to but, if you look at the levels of inflationary pressure we've seen this year and, to an extent in '21, no amount of reformulation would allow you to navigate through those increases. It's about having an open, very transparent dialogue with our customers who face the same pressure. If you look at the retailers, for instance, particularly those that have a lot of chilled and frozen products, and their energy bills, their wage bills, they face inflationary pressures themselves as well.
When we look forward to '23, inflationary pressure is still there, which is significant but, relatively, is nothing like we've worked through the past 12 months. The curve does seem to be flattening out. Now, hopefully, when we get into the second half of '23, the hope is it will level out.
JF: When you look at your business with retailers in the last year or so, what success have you had in being able to pass price increases through?
JL: Well, if you think about a relatively young buyer, they've never been in an environment like this before. It's only people like me with grey hair that can remember inflationary environments, so there's had to be a learning curve, I think, on their part. On this occasion, the inflationary pressures have been so widespread, so widely reported, that really it's more about how do we work together to navigate through, rather than the traditional 'Well, we're not accepting price increases.'
If you look at the average EBITDA margin of a typical food company – not one of the big, branded boys but a typical food company providing own–label and general supermarket products – you're probably talking about a trading margin of something between, I don't know, three and five per cent, something like that. When you've got inflationary pressures of 20 to 30%–plus, then the conversation really is a different one. It's 'how together do we navigate this?' Generally, manufacturers and retailers have had to work together to get through this, rather than adopting a sort of, confrontational, unrealistic stance.
JF: Have you managed to get through the quantum you wanted?
JL: Yeah, I think I'd say, generally – and I can't speak for all manufacturers – but there's been a strong element of realism to get through it, so, whilst the inflationary pressures are still there, I think we've worked together with the key customers in a pretty progressive way, I would say.
JF: What kind of elasticity is Baker & Baker seeing on its products after increasing prices?
JL: We're watching the numbers very, very closely, but, so far, if you look at in-store bakery – and you look at sweet bakery particularly within in-store bakery, the numbers have been holding up relatively well, certainly compared to general grocery. But we've got the HFSS legislation as well kicking in from the beginning of October, which further muddies the water.
Now, whilst a lot of fresh bakery is excluded from the legislation, it remains to be seen how the retailers interpret the law as to what extent fresh bakery is impacted. As a fresh bakery supplier, we would hope that given the wholesomeness of the products we sell – they are in the main very short–life products, limited preservatives and all the rest of it – will hold up and HFSS won't impact us too badly.
It's challenging for the retailers because there are grey areas, with some products being included and some not. If you go by the letter of the law, fresh bakery isn't included but, of course, the retailers have got to navigate through that at head office level and, importantly, on the ground, in the actual stores. It's a grey area but it's something the retailers have got to find a way through. It's early days and I'm sure it'll settle down.
JF: There's always a lot of talk around the 'lipstick effect' during a downturn.
JL: At times like this, everyone deserves a bit of a treat. Everyone deserves a bit of a pick-me-up. We say – and it's a little bit grand – we're providing 'affordable moments of pleasure'. A pack of five cookies for GBP1.29 is a very affordable, indulgent treat and compared to most industrially–produced, longer–life products. A warm cookie with 28% chocolate content is a very nice, affordable treat really.
JF: So, are you expecting sales and profit growth in 2022?
JL: What we've seen in '22 is a continuation of the Covid recovery, which started in '21, particularly on the Continent, where the foodservice market was so badly hit. Things like gastronomy in France were virtually closed down. Versus '20, where we were so hard hit with Covid, we've seen a continuation of steady recovery.
JF: If you exclude acquisitions, are you back up at the 2019 level of sales?
JL: I can't comment on that.
JF: Baker & Baker's most recently-announced acquisition was of Portugal-based business Peipen. What was the rationale for that deal?
JL: We've maintained and are proud of our local trade brands. We've got trade brands in Germany, Belgium, in France. Other companies adopt – and I won't name names – a more universal [approach] where you've got one product and it travels right across Europe. One of our points of difference is we're proud of our heritage in different countries, including the UK. Building on that, we're also looking all the time for local specialities. We wanted to invest in pastéis de nata for some time. It's a great example of a local speciality that's travelled but there are other ones as well. We've got cinnamon rolls from Scandinavia, Danish pastries. [Peipen] fits ideally with us in building a portfolio of local specialities. Consumer–wise, it adds a bit of difference.
JF: In broad terms, what types of other companies would you target?
JL: We categorise our product range in two ways. One is what we call American sweet bakery – muffins, cookies, donuts, brownies, etc. The other is laminated, savoury and bread. We've got a different strategy for each. American sweet bakery is where we've really got a lot of scale. It's more about leveraging our economies of scale, building our existing platform. If there's a regional donut manufacturer, for instance, then we can build it onto our existing donut business, which is sizable.
For laminated, savoury and bread, it's more about those regional specialities. Particularly there, if we see a business that is in a really interesting product group, that the product is firmly authentic in a regional way but that it can travel as well, it's got wider consumer appeal. Those sorts of products are very interesting for us.
JF: Thinking about turnover, what size business would you look at?
JL: It's hard to say, it would depend on the attractiveness of the business. Our turnover this year will be probably somewhere between GBP550m and GBP600m. We are a reasonably sizable player in sweet bakery in particular. If the right opportunity comes along and it fits into one of those two categories that I described, then we would consider it.
JF: Does Baker & Baker have plans for the US?
JL: It's probably one for the future. Obviously, we had a business in the States as CSM and there's a certain period of – what would you say – exclusivity for the business when we sold it. At the moment we've got enough to occupy us. The States is a particular market as well. You need a full-on strategy if you're talking about the States.
JF: Are there markets Baker & Baker is not in that could interest the business?
JL: We were just talking yesterday about Australia. We've never done any business in Australia or in New Zealand. There are still white spots for us. When we were integrated with CSM, the international business, the export business was really centred around ingredients. Why? Because ingredients in terms of shipments, route-to-market containers, it's an awful lot easier. We never really pushed the bakery products. Now we're a dedicated bakery-products business and that's where we put the focus. Naturally, there's a fair bit of whitespace for us in our international markets and we've recruited a very experienced guy to drive that. We've opened an office in Dubai, we've opened the central office now in Poland, so we're driving that business.
JF: How would you describe the last year or so? It must have been one of the more challenging periods you've worked through in your career?
JL: Let's think about it. I've been in the bakery industry for 40 years. What are the descriptions? 'Unprecedented'. The financial crisis of 2007/2008, we saw probably six months of market volatility. There was a quarter where consumer confidence crashed if you remember people trying to get the money out the building societies. That's the nearest thing I can remember to this. That was relatively short-lived.
I've never seen such an extended period of volatility – and particularly if you think this came on the back of Covid. The events of the last three years are completely unprecedented for everybody within the industry. As I say, I've been around nearly for 40 years and I've never seen anything like this at all.
JF: And you're managing this across different territories. You've got the impact of Brexit still unwinding on top of that.
JL: Brexit is a strange one. There was all that talk before Brexit. It was 24/7. Then really Covid happened. Then we've got this cost of living crisis. We've got rampant inflation. Brexit has just been lost. Yes, it's a bit of a pain to create vet certificates for exports to Ireland, etc., but, really, in the scale of things, Brexit has vanished into the background. It's been more about a) Covid and then b) this unprecedented level of inflation across virtually every cost measure.
And across every market. I'm managing a business that's pan–European. In Britain, we tend to think the pressures we see – interest rates, inflation – are solely a British thing. Well, of course, they're not. We see those pressures right across the market. And, if you look at energy, for instance, some of the Continental countries are in a worse position than us. Germany, for instance, with energy. It's a massive issue for them. So, yes, these pressures are across all the markets.