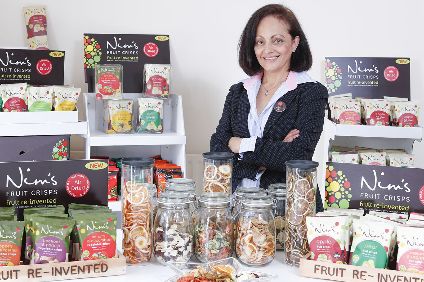 In 2012 Nimisha Raja pioneered the concept of air-dried fruit crisps, launching the first product to the UK market with her Nim's Fruit Crisps brand. Six years down the line – after claiming deals with the Co-op and Ocado – the company has just gained its first listing with supermarket giant Tesco. Andy Coyne talks to her about the company's growth and future plans.
Name – Nim's Fruit Crisps
Location – Kent, UK
Products – Air-dried, single ingredient fruit crisps.
Founded – 2012
just-food: You've recently won a listing with Tesco. How did that come about?
Nimisha Raja: It's about speaking to the right buyer at the right time. It took us two or three months to get in there with a new buyer. But now we are in 1,500 main estate stores and 900 express stores with four SKUs. Their own label crisps are being replaced with ours because the quality of ours is better and they are made in the UK. We did a tiered launch because its the biggest listing we had. They visited the factory because we needed to show them we wouldn't let them down.
just-food: Was meeting Tesco's production demands a concern?
Nimisha Raja: No. Even if we were listed in all supermarkets we would only be at 50% capacity. We set up to do that from day one. It was either foolhardy or showed a lot of confidence. There's no point setting up small. From the outset I wanted to launch products which I knew would go into the supermarkets. I wanted volume and it needs to be at an affordable price.
just-food: Let's go back to the start. What were you doing before setting up Nim's?
Nimisha Raja: I used to run a coffee shop in South London.
just-food: What was the motivation for setting up a food company and why fruit crisps?
Nimisha Raja: Healthy eating has always been important to me, especially after my daughter was born. A lot of parents and children used to come to the coffee shop and there was a constant struggle about which snacks the children were allowed to have. Children wanted crisps or chocolate and parents wanted them to eat fruit. The idea of fruit crisps came from finding some blueberry-flavoured, freeze-dried apple chunks and, although they were really crispy, freeze drying sounded very artificial and I simply couldn't understand why one perfectly great tasting fruit had to be artificially flavoured with another. Most healthy snacks were packed in brown wholesome looking packaging and tasted more 'brown' than wholesome. I wanted to create a product that was healthy, fun (ensuring the packaging reflected that) and both parents and children wanted to eat.
just-food: What was the gap in the market you saw?
Nimisha Raja: There really weren't any truly healthy snacks that were available and tasted great. So many products state they are 100% natural, but then list a host of ingredients on the back of the packaging. The 100% natural claim is so prolific now that we have decided to take that off the front of our packaging and instead state 'Just 1 Ingredient'.
just-food: Did you have any mentors from the food business to give you advice?
Nimisha Raja: No, not really. However, I have never been too proud to ask for help and advice. I also have met lots of people over the years that I have learned from and of course Google…how we ever did anything before the age of the Internet I will never know.
just-food: The product was manufactured overseas at first. Why did you decide to bring it back in-house?
Nimisha Raja: Having someone else make a product that you have created from scratch was always going to be a challenge. No one was making air dried fruit crisps on an industrial scale and certainly not the variety that Nim's were offering, launching with a range of six – apple, pineapple, pear, apple & strawberry, orange & melon, and pineapple & kiwi. Each fruit varies so much that each one needed its own method of slicing and drying and needed constant modification. A co-manufacturer will never have the same level of passion and perseverance as you, the brand owner. As such, after a while, the quality and consistency of the products suffered. Over and above that, I never really got to see the products as they would go from the manufacturer (in bulk) to the co-packer and then to a consolidator to distribute to retailers. It was all out of my control. The other thing of course was that we couldn't be very agile when it came to new product development. For an innovative company, not being able to introduce new products at our own will and timescale was just not viable.
just-food: So in 2016 you started selling the self-produced product.
Nimisha Raja: Yes. Having decided to set up manufacturing ourselves, we actually stopped trading because the products weren't up to my standard and I didn't want to damage the brand and the chance to re-enter the market.
just-food: Launching your own production facility in Kent must have been a huge step. What gave you the confidence to do this?
Nimisha Raja: It was a case of either I give up on the whole project altogether or do it myself. I believe that anyone can do anything they set their mind to given the right attitude, but ultimately you have to share the belief in the product. Nim's ticks all the right boxes. The only thing I knew I needed to work on or had to improve on was the retail price. I knew I didn't want it to be a niche product priced at GBP1.50 (US$2.04) or so a pack, but an everyday healthy snack priced at under GBP1.00. The only way to achieve this was volumes and tight margins. I was only going to get this by supplying supermarkets. Knowing that I wanted to supply supermarkets dictated the size of the factory, the production capacity of the equipment I bought and how much money it was going to need to get there. So, to go back to your question, ultimately the confidence came from knowing that I had a great product and I just couldn't see it failing.
just-food: You mentioned the products are exported to 11 countries now. How have such deals come about?
Nimisha Raja: My first introduction to export was through Produced in Kent and Kent Invicta Chamber, who jointly organised/financed a trade show for ten Kent producers. I was one of them and the show went really well and the products were really well received and we began exporting to Belgium. Thereafter, a lot of our export leads have come from articles that have been written about us by various national and international trade publications and that came about from having a great PR company looking after us. These leads are not ones we have chased, but have approached us after reading about us.
just-food: Is providing products on an own label basis likely to be a growth area for you?
Nimisha Raja: When I set up the factory, part of my revenue stream was making own label product, whilst we built the brand. We still make own label for a couple of brands and will continue this work…however, we will not be taking any further own label contracts.
just-food: How do you explain the brand's pretty rapid growth?
Nimisha Raja: Right product, right time, and 20-hour work days. Nim's is a British brand and manufacturer that ticks all the boxes. The most common response from consumers and buyers is the incredulity that our products look and taste of the fruit and vegetable they are made of. Nim's are suitable for everyone – they are allergen free, vegan, kosher and halal-certified so have a very broad appeal. In an age where everything is artificially flavoured and coloured, we make an impact on everyone who tries them. Consumers are ever more savvy and vigilant about the ingredients list and provenance. The simplicity of Nim's, the one ingredient crisp, and the integrity of the brand (in terms of we are what we say we are) engenders trust and buyers and consumers like that.
just-food: You have said foodservice could be a growth area for you. Can you expand on this?
Nimisha Raja: Simply that we are targeting the foodservice sector. Our credentials – being CQUIN-compliant and licensed by the Department of Health as one of five a day – means we meet with the new guidelines that foodservice operators work under. Again, making them an affordable item also makes it an attractive proposition.
just-food: What are the plans for future developments, in snacking and beyond?
Nimisha Raja: We have lots and lots of incredible new products lined up with the first one being launched by the summer. I wish I could tell you more about these but suffice to say, we will remain true to our innovative roots. We are also working on our production processes to reduce waste. As all our products are made using the whole fruit and veg, including skin, core and pips, with the exception of pineapple which we do peel, we create virtually zero waste. Wouldn't it be great if we created zero waste at least when it comes to food waste? We are then also looking at our production processes to reduce water and energy waste and of course plastic… this latter is a tough one to tackle without affecting the integrity of the product but we're on the case.
just-food: How is Nim's faring financially?
Nimisha Raja: We are on a good trajectory for 2018. The sales for the first quarter were almost the same as the whole of 2017 and we are projecting more than a 15-fold increase on 2017 by the end of this year, with a few new launches coming up.