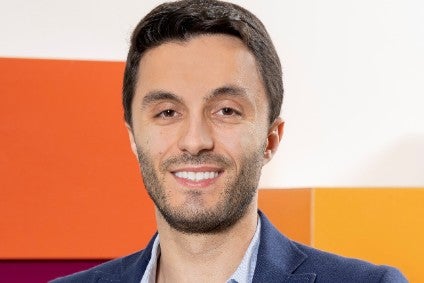 It would be no surprise to hear PepsiCo, like many of its peers, saw e-commerce sales jump through the early weeks and months of Covid-19. But to what extent does the food-and-beverage giant believe consumer interest in shopping online will continue when the virus is tackled? Dean Best spoke to Rui Francisco, director of e-commerce for PepsiCo's business in Europe.
Thumbing through PepsiCo's annual report one sees the "rapid growth" of e-commerce and "disruption" it could bring to the grocery retail sector marked among the "business risks" the US giant flags to investors.
In a bid to turn that risk into something of an opportunity, the Lay's crisps and Quaker cereal owner has, in recent years, stepped up its investments in the area. PepsiCo's 2019 annual report talks of how the company had made "investments in building our capabilities to support our global e-commerce business".
The company is not alone among its peers in doing so; e-commerce remains a small part of the annual sales of many a packaged-food major but it has been steadily growing and Big Food has sought to invest behind that growth.
Of course, growth has been given a significant boost in 2020 by the onset of the Covid-19 pandemic, with more shoppers, nervous about venturing out (or unable to do so), or frustrated by empty shelves in-store, turning to their laptops, tablets and phones to buy their groceries online. When PepsiCo announced its financial results for the second quarter of the year in July, the company remarked how, in the US, its e-commerce retail sales in the country had doubled year-on-year.
PepsiCo doesn't break down its sales by geographic market, so what those sales were is not made public. In the company's annual report, the Doritos owner does disclose "nearly US$2bn in measured retail sales" in the e-commerce channel globally in 2019 (out of total, company-wide, net revenue across all channels of $67.16bn).
It's not just in PepsiCo's home market that the company has seen that jump in e-commerce sales. In Europe – home to two of PepsiCo's four-largest markets by revenue outside the US – the group, home to brands like Walkers in the UK and HrusTeam crispbreads in Russia, has witnessed an acceleration in its growth in recent months.
"The trends that we've seen happening in North America are very similar here in Europe. Our growth has definitely accelerated," Rui Francisco, director of e-commerce for PepsiCo's business in Europe, tells just-food.
Francisco has worked for PepsiCo for a decade and has been in his current post for two-and-a-half years after eight in North America, most recently as director of the company's e-commerce business in that market. PepsiCo's e-commerce operations in Europe take in some 120 staff, up from 20 a few years ago, Francisco notes.
Speaking on Zoom from his base in Portugal, Francisco says PepsiCo's research across Europe supported commentary elsewhere in the industry that Covid-19 had led to new shoppers trying out buying groceries online. PepsiCo said its data showed a quarter of online grocery shoppers in Europe during lockdown have been either new to the channel or had, in the company's words, "lapsed". Francisco says PepsiCo had also noted how there had been changes in the types of consumers buying online.
"Before Covid – if I can give you a very simple description of who was buying their groceries online – we would usually be talking about young people, couples with young families, living in urban areas. With Covid, through some of our studies and some research, we've seen new cohorts like older people. We saw the segment of 65 and older starting to buy food and beverages online. We also started seeing people in rural areas and also less affluent buying online and that has driven the acceleration."
In those early weeks and months of the pandemic, PepsiCo's European operations sought to pull a number of levers to try to react to the growing interest in buying groceries online.
As with many suppliers across the different parts of the retail channel, PepsiCo moved to focus on its "key SKUs", Francisco explains, pointing out initiatives throughout the company's supply chain also included delivering to retailers at night. The group also stepped up its efforts to invest in marketing around changes in consumer habits.
"With people confined, we saw the emergence of breakfast, so some of our brands that have done particularly well have been Quaker, Tropicana," Francisco says. "Also with sofa moments, people watching TV, streaming, it was also a good opportunity for us to drive some of our snacking occasions."
After reflecting on PepsiCo's performance over the spring and summer, Francisco, however, acknowledges "the big question" is to what extent this increased interest in shopping online will persist. Retailers, Francisco says, have invested behind their capacity to serve their online customers, which should be able to support any continued elevated demand.
"Through some of the research that we've done, we believe that about 50% of shoppers that are buying food and beverage online have said that, through next year and once the pandemic starts to subside, they're likely to still keep buying some of their groceries online."
It's instructive, of course, not to view the e-commerce channel as one homogeneous route-to-market. It is an evolving channel, with packaged-food manufacturers selling through the online platforms of their traditional brick-and-mortar customers, online pure-plays (like Ocado in the UK), marketplaces like Amazon and the emerging area of what Francisco calls "rapid delivery", including businesses like Uber Eats and Deliveroo.
While PepsiCo is working to ensure its products are available on platforms such as Amazon and Deliveroo, Francisco says the bulk of its work in e-commerce centres on selling through the likes of tesco.com and carrefour.fr, where the thrust of the company's sales online are generated (as well as key pure-play retailers like Ocado).
"The majority of our business and how we've driven it has definitely been around setting key strategic partnerships with the online retailers," he says. "Our main strategy and focus is working with online retailers, where the shopper traffic is, where people are buying these baskets."
However, that's not to say PepsiCo hasn't been busy working on opportunities in the more emerging parts of e-commerce grocery, be it using Amazon to sell different pack sizes or test new products and ensuring its snacks and beverage products were available through Uber Eats and Deliveroo during the Champions League soccer tournament in Europe over the summer. "We work with the most relevant customers in each of the markets to make sure our products are available to our shoppers," Francisco says.
PepsiCo, as would be expected, offers its products through Amazon's own online-grocery delivery business, Amazon Fresh, where the service is available, and Francisco says the group will continue to step up its efforts with the online titan as and when consumers start to increase their use of the platform for food and beverages.
"As people are starting to understand that Amazon is a place where they can buy groceries, driving visibility through those marketing activations it's also one of the things that we focus on."
However, PepsiCo has, so far, also used Amazon as a platform on which to sell larger boxes of its snacks, variety packs, SKUs, Francisco says, "that are not easy to find in regular retail distribution". It has also been an area where PepsiCo has looked to launch gift products under certain brands, such as Doritos and Walkers, for Christmas and Easter.
"We do these as test-and-learn to understand the fit of these products so that we can have a strategy to launch them in the future," Francisco explains.
"That's how we've been building that innovation capability with Amazon. As we're building this capability, as we're building this muscle, it's important to think about the full market and the opportunity it brings. We're not just talking about testing something that's gifting, right, with Amazon. Our ambition is actually to go and be able to take it to other online partners as well. The way we want to work is through a little bit more of an agile mindset and testing out new things – and that applies through all of the partners, not only the Amazons."
To what extent does that agile mindset include the development of direct-to-consumer services? Packaged-food companies big and small have sought to either step up their investment in existing D2C platforms or launch services since the pandemic started – including PepsiCo itself in North America.
In Europe, the company does have some D2C businesses in specific markets, including, for example, Unwasted, a service launched in the Netherlands just before the Covid-19 oubreak, where it is selling to consumers "surprise" bundles of products with a low shelf-life. In Spain, meanwhile, after Covid-19 hit the country, PepsiCo launched a D2C platform through which to sell its kombucha drinks brand Kevita, which is typically sold in restaurants and cafes.
Overall, however, in Europe, PepsiCo sees direct-to-consumer as a means of supporting the company's wider efforts to develop its insights into consumer behaviour.
"We see direct-to-consumer mainly as a way of building capabilities," Francisco says. "Most of our focus, or indeed most of the growth, is going to be through retail partners, but we can use direct-to-consumer to build capabilities. These can be around driving insight, launching innovation, maybe some things that we want to test out on different SKUs versus maybe just launching one with a retail partner. Test five SKUs, then iterate a little bit, the marketing proposition, the communication and then hone in on what we want to launch afterwards."
Iteration, agility and investment will continue to be critical to PepsiCo's ambitions in e-commerce, which, while still a small portion of its overall sales, looks set to develop in importance in the years ahead.