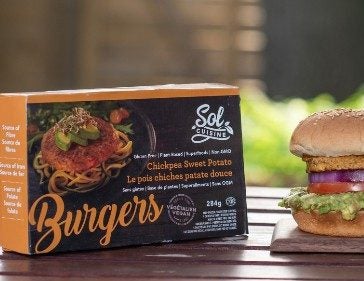 Andy Coyne speaks to Dror Balshine, founder and president of Canadian plant-based food business Sol Cuisine , about the surge of interest in an industry he has worked in for decades.
As a 25-year veteran of the plant-based food market, there are few better qualified to speak about developments in the meat-free arena than Sol Cuisine founder and president Dror Balshine.
He started his Canada-based business back in 1996 but Balshine is unwilling to rest on his laurels as an elder stateman of the movement running a relatively small, privately-held plant-based food firm.
Sol Cuisine recently went public through a reverse takeover of shell company Platform 9 Capital Corp., raising CAD15m (US$12.2m) in the process. The Ontario company is now listed on the Toronto Stock Exchange (TSX ).
"I wanted to share the company's vision and journey with more people – people who would become brand advocates," Balshine says.
"The model has been proven by a few companies in the last year and it was a very efficient way to raise capital. We needed to do that to raise our profile, which is an effective way to help us grow the business."
With plans to spend that capital on R&D, product innovation and marketing hires, and eyes on markets outside North America, Balshine is keen to keep driving the business forward.
Is it the sheer level of competition in the market now that is fuelling this forward momentum?
"I'm excited by this growth. It's the most exciting area in grocery today. I find that very personally gratifying. It makes me feel like a visionary," Balshine says.
His commitment to the plant-based cause saw him launch a business himself, despite no prior food industry experience, to meet a gap in the market.
"I was a salesman for a construction company and travelled a lot and, as a vegan, I couldn't find many options when it came to eating out," he says. "I saw a real need in the market. There was a lack of plant-based food, especially in foodservice. I've always been passionate about food. I was a foodie before there were many foodies. That remains a driving factor.
In 1996, Balshine founded a company called Second Nature . It merged with Soy City Foods, which went back to 1980. "It started as a co-op. A lot of Vietnam War draft dodgers from the US came to Canada and some started their own restaurants in Toronto and there was a need to supply them," Balshine says.
Having combined the businesses, Balshine wasted no time in building the foodservice operation.
"What was really prevalent when we started out in the mid-'90s was that the largest group of vegans and vegetarians were teenage girls, so the first contracts we got were deals with high school cafeterias. From there we moved on to restaurants. We started selling to Burger King in Canada in 2002."
Sol Cuisine also targeted the retail channel. "We launched branded products within the first 12 months," Balshine says. "There was definitely an opportunity in the retail space. [Canadian grocer] Loblaws had just started its Natural Values 'store within a store' concept and that drove us into retail fairly quickly."
Fast-forward 25 years and the Mississauga-based business is now in 11,000 stores – including branches of Metro, Target and Whole Foods – in Canada and the US, offering more than 30, mainly frozen, SKUs ranging from appetisers and veggie burgers to faux-chicken lines, plant-based meatballs and meat-free-turkey roasts. Its products are non-GMO, organic, and wheat- and gluten-free.
Sol Cuisine has 100 employees working in two manufacturing facilities in its hometown where there is space to triple production. The company's net revenue in 2020 was CAD17.1m.
Balshine admits  establishing a plant-based business in Canada was easier than it might have been elsewhere.
"Canada is an agrarian society, a world leader in pulses. It has always punched above its weight in the plant-based sector for sure," he says.
"We've got more than our fair share of plant-based manufacturers and we supply the world with many of the raw ingredients for their products."
But, even in Canada, the plant-based products boom has created a very different environment to the one in which Balshine launched his company.
"There's certainly a lot more competition today. A lot of people are entering the space. Some are traditional animal product companies. I'm worried there may be too much of a pendulum swing. I just hope that the rush into the industry doesn't bring in a lot of players who will hurt the transition," he says.
Does he resent the entry by a raft of competitors, especially by companies from a meat background, into a space pioneers like he himself helped to open up?
"It's a complicated situation. If we are getting more people to eat plant-based then that creates a bigger pie for everyone and Sol Cuisine will benefit from that growth," he says.
"Having a plant-based diet is one of the main things people can do in the fight against climate change and the likes of Tyson and JBS have enormous reach so from that perspective I welcome them to the fold.
"But the other issue is the health issue – heart disease, cancer and obesity. It's clear a plant-based diet would support a society's health.
"It's ironic because they [the meat giants] sell high fat, unhealthy meals and they are also doing this [plant-based] but overall we will be better off [from their involvement]."
Does Balshine think Sol Cuisine's bona fides as a plant-based producer of long-standing gives it an edge moving forward?
"We can leverage our legacy and the quality of our products," he says.
"We are the number one frozen veggie burger company in Canada and, until recently, we were a small privately-held company so I think it gives us an advantage but a lot of money is pumping in now."
Hence the need for the stock market listing, which followed a US$10m fundraising exercise last autumn headed up by the venture-capital arm of Canada's BDC bank, which itself followed three previous financing rounds.
So what does Sol Cuisine plan to do with the cash it has raised?
"It's all around communications and investing in R&D," Balshine says.
"R&D is at the core of what Sol Cuisine does. For a small business, we disproportionately invest in R&D. Blind taste tests are very successful for us and we want to do more of that, partnering with retailers. We also want to bulk up the marketing department."
International expansion is also on the cards.
"We'd like to 'own' Canada but also to have very innovative items and to introduce them to more US consumers, Balshine says.
"Canada remains our focus but we are very keen to grow in the US. We are trying to be a bit more strategic there. We feel we can win with certain products."
And further afield?
"We are talking about this now. We hope to be able to export into a variety of markets in the near term but we have not finalised which markets yet," Balshine says.
"The exciting markets are Europe and Asia and we have had contact with people in the Middle East.
"We will be launching into Mexico soon through a deal with Costco. The others are likely to be in 2022. It's about finding the right partners.
"But there is so much keeping us busy here right now."
This is partly because of the company's recent growth rate. In the six months to the end of March, it recorded sales of CAD12.6m, 77.3% up on the same period last year.
How does Balshine explain this surge?
"People are eating more at home and are willing to try new things. There's a focus on innovative products and that has given us a great boost," he says.
The plant-based food market has that feeling of a gold rush about it. How does Balshine see it panning out?
"I think there will be some fall-out certainly. Some of the companies entering this space won't be here in 12 or 24 months. The market will continue to grow but there will be some consolidation," he says.
"Products that are nutritionally strong will win and it also comes down to taste and which products are meeting a need for the consumer. There are lots of veggie burgers out there now. Does the world need another one?
"You need to have the production capacity, the product and people to succeed.
"It will be a bit of roller-coaster over the next few years. It will be fascinating to watch."