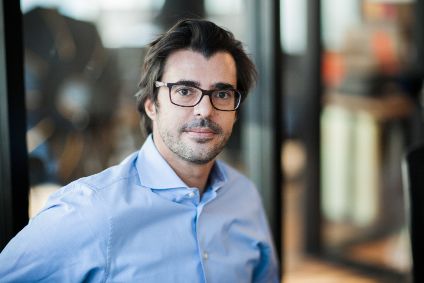 Laurent Marcel, the managing director of Danone Manifesto Ventures, talks to Dean Best about the French giant's strategy of investing in up-and-coming businesses shaking up the food industry.
From its pledge to become a B Corp, to its US$12.5bn acquisition of WhiteWave Foods, Danone's recent manoeuvrings have demonstrated the French group's strategy of reshaping its operations to try to meet the changing consumer demands and habits turning the food industry upside down.
The in-house Danone Manifesto Ventures investment arm is another way the Activia-to-Alpro maker is trying to make its business more relevant now and better prepared to meet the challenges facing food manufacturers in what some are calling the age of disruption.
Danone Manifesto Ventures, set up in 2016, is looking to make investments in fledgling food and beverage businesses that are "disrupting the industry at all steps of the value chain", Laurent Marcel, the managing director of the division, tells just-food.
The division has so far backed 11 firms, ranging from French biscuits-to-yogurt maker Michel et Augustin to US vending-machine business Farmer's Fridge and to Drums Food International, the India-based Greek-style yogurt supplier.
"What makes our activity exciting is we have a fairly broad mandate to basically invest in food and food-tech companies that disrupt the industry at all steps of the food value chain. In a way, our investment thesis goes from farm to table," Marcel says.
"If you look at the farm side, we are very interested in new or young companies that disrupt the way agriculture is done. The table for us means all the new emerging categories and brands that can enrich the Danone portfolio – so anything going from organic foods, plant-based foods, healthy food for kids, new beverages, healthy snacks. There is a broad variety of new categories and brands that are part of our investment thesis. Our role is to look for meaningful adjacencies for Danone – brands and categories that could add something to the Danone portfolio a few years down the line.
"And then there is a third pillar. In the world of today, the farm and the table are pretty connected. There is an entire world of connection. The third pillar is basically all the new consumer and shopper models using technology, so anything from direct-to-consumer models, the use of vending machines to distribute products to consumers, the use of new technologies and artificial intelligence in marketing."
Marcel has worked for Danone since 2002, when he joined the Aptamil owner as corporate finance director. Between 2012 and August 2016, Marcel worked in India, including 14 months as managing director of the company's business in the country. In September that year, he was appointed managing director of the new Danone Manifesto Ventures investment arm, which is located in New York City.
Marcel says the food industry has undergone "a massive transformation" since he first entered the sector in 2002 after a period as a lawyer.
"I remember when I joined Danone 17 years ago our competition, the food industry in general, was basically large food groups and family businesses in different parts of the world. Today, the landscape is very different. It's much more open, much more dynamic, it's fragmented. Instead of just having in front of us large groups, we have thousands of entrepreneurs in food and food tech, pretty much everywhere in the world. The idea of Danone Ventures is to embrace that change, to see all these food entrepreneurs not as challengers but as a great opportunity to invent together the future of food."
Danone is among a number of the world's largest food companies that have set up in-house investment arms to try to tap into the emerging product and consumer trends shaping the sector. Broadly speaking, the major players in the industry have started to see their sales come under pressure from smaller, more agile competitors more focused on trends like health and sustainability and which have been able to develop and launch products to meet the changes in consumer demand.
"The vision was to enrich the Danone strategy and ambition"
Asked if Danone set up its investment arm because it wanted to improve its capabilities in certain areas, Marcel seeks to emphasise another rationale for the division. "I'm not sure it was something to improve versus wanting to take the learnings and the benefits of what was in the outside world. It's two ways of maybe saying the same thing but I think in reality the vision when we started was that there were a lot of great things happening outside on the innovation front, on the distribution front and the digital front. The vision was rather to enrich the Danone strategy and ambition with all those great things. And then, by doing that, changing the way Danone does business. It was more that spirit, rather than something more defensive or trying to fix anything."
Marcel says Danone "is still in the early years" with Manifesto Ventures but outlines what the group has learnt from working with the 11 companies under the Manifesto Ventures umbrella, which also includes US meal-kits firm Yumble, US-based coconut water supplier Harmless Harvest and Agricool, a French urban farming business.
"This is just the start. The ambition to change or impact Danone from the learnings of all the food entrepreneurs is going to take time – it's change management – but I think we already have accomplished a first stage of awareness and openness, which I think is very fruitful."
Often, Danone's peers that have set up similar investment arms – or have launched incubators or accelerators – talk about how they want to change the way they innovate and get products to market. Tim Cofer, chief growth officer at Mondelez International, is heading up the Cadbury maker's SnackFutures division and earlier this month told just-food how "the old innovation model is not working" and how the snacks giant was looking to work with a concept called "transactional learning", which, put simply, involves speeding up innovation and involving consumers in the process of product development.
Marcel concurs innovation is one area in which larger players can learn from their smaller peers – and outlines others. "It's absolutely right to say that young companies tend to go faster. They are probably more free in the way they do lots of things. If you take a company like Michel et Augustin, it's a good example of a company that has tried many different products in many different categories, having the vision that a brand can travel across categories, trying things, stopping things, being very agile in the way they do business," he says.
"There are also lots of learnings on the manufacturing and supply chain side. Typically, young companies are used to doing more with less, to work with partners. They typically co-manufacture rather than do things themselves. That's one of the reasons they are often more agile and faster to launch products in different categories. That's quite different from the classical footprint of the larger groups like Danone, where we typically like to own our factories and to scale operations from our own factories."
He quickly emphasises, however, how that scale can benefit a younger company in which Danone has invested. "There are also lots of things that large groups do very well – managing operations at scale, managing products and food safety, scaling distribution, being able to expand a brand internationally and adapting the marketing mix."
Danone says it has, for example, helped expand the presence of Michel et Augustin in the US, worked on quality and food safety at Farmer's Fridge and assisted in the setting up of factories for Harmless Harvest and for another of its investments, French baby-food firm Yooji.
In common with Danone's peers with investment arms, the company has yet to convert its minority investments – the most recent of which was in Epigamia owner Drums Food International in India – into full acquisitions.
Marcel says Danone will not always become the sole owner of an investee in its ventures division. "The main focus when we invest in young companies is to identify the potential collaborations and benefits of working together and then we see," he says. "If a few years down the road, which we hope obviously, some of these companies are integrated as part of Danone that will be a great achievement but it's not always the case.
"In some cases, we even invest with the view we might not be the best ultimate acquirer of these businesses but, during the few years of our investment in these companies, the journey together and the collaboration together will be extremely enriching mutually."
Marcel adds: "We have, if you want, a double agenda. In some cases, there is an agenda of invest to acquire in the future. But, in other cases, especially in the food-tech space, it's much more an agenda of investing to learn together through the collaboration."
In October, Danone said at an investor presentation in London it wanted to have a "portfolio of 20-25 start-ups" within Danone Manifesto Ventures by 2020. Marcel is coy about whether the 20 to 25 target is still live.
"The number of investments is something we continue to fix to ourselves as a compass or an indication of the type of activity we want to achieve," he says. "Beyond the number of investments, what we really are after is bringing value both to the entrepreneurs and to Danone as a group. On the entrepreneurs' side, our ambition is to be really valued as a strategic investor that does bring value beyond the capital we bring. On the Danone side, [Danone Manifesto Ventures] really hopes to become a source of innovation and inspiration, wanting to bring innovative companies, brands, categories, models to Danone on one hand but also bringing an inspiration to change the way Danone does business, to be even more open with the outside world and all that of course with the grand ambition of improving the health of the people and preserving the planet."
However, the Danone executive concedes there is more competition for investments as the larger food manufacturers jostle to work with firms they believe can provide them with an edge in a market undergoing significant change. Marcel says the international spread of Danone Manifesto Ventures' investments makes it different from divisions set up by its peers. He also points to the focus the company is putting on health and sustainability, even if some could put to the more indulgent nature of the Michel et Augustin product range.
"We felt from inception that being very international could make us different and that would be valued by entrepreneurs in the food and food-tech space. When I say international by the way, it's not just being prepared to invest in different parts of the world, it's also bringing different nationalities and a different culture to the way we do business," he says.
"Beyond that, the focus we put on health and sustainability in all the choices we make is also something that will make us different in the future. When we created Danone Manifesto Ventures, Danone Ventures sounded like a natural name but we felt there was something missing to tell our commitment to health and sustainability. It has the benefit of being up-front about the fact we do not only look for entrepreneurs who disrupt, innovate or grow fast, we look for entrepreneurs who have a clear say on the health benefits they bring to their products and their footprint on the environment.
"Our role with Danone Ventures is to explore adjacent categories and partner with entrepreneurs who re-invent them with health in mind. We see indulgence as one of those adjacencies and we are very inspired by the way Michel et Augustin teams re-invent an innovative, modern, honest indulgence with short recipes, high-quality ingredients, rooted in French culinary tradition.
"Overall, I think the food space has become more competitive, both on the entrepreneur and on the investment side. In a way, the great news of all of this, is never have consumers and investors been as interested in food as they are today."