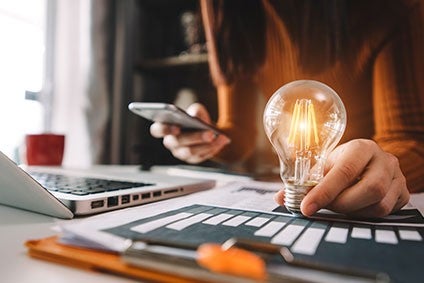 Lucy Britner speaks to three key players at Big Food in-house venture-capital and innovation units about the consumer trends driving change in food habits, the burgeoning accelerator/start-up space and what the industry can do to encourage more female entrepreneurs.
"Working within the start-up space, there is a lot to be excited about" – D'Anne Hayman, VP global innovation and nutrition, Kellogg
We are seeing more people interested in taking charge of their own wellbeing – how they are socially engaging with others, doing what's right for the planet, seeking indulgent food experiences and having a better understanding of their physical health. In the food space, we're seeing this manifest in designing more indulgent experiences, so we're taking some of our brands to that indulgent edge.
We're also seeing an explosion in the plant-based protein space, including the different sustainable sources those proteins come from and the unique benefits they bring to nutrition and functionality.
Digestive wellness and fibre are also evolving. Consumers are much less interested in dieting and, instead, are seeking to know more about what they should be eating and how it affects their health, mood and microbiome.
How we innovate is also shifting, including finding unique ways to rapidly iterate food design, running experiments rather than traditional market tests, and designing new commercial models for consumers. We know that adequate access to affordable, nutrient-dense foods will continue to be a global need. If we are designing foods that nourish and delight the next four billion consumers, then we must innovate our business, manufacturing and commercial models.
Identifying investment opportunities at Eighteen94 Capital is both an inside-out, and an outside-in approach. My team and I work in partnership with MD Simon Burton to identify investment opportunities. We are focused on clear innovation opportunities and solving certain technical challenges.
We invite start-ups to contact us and we also leverage an external network of partners to help us scout for our targeted priorities. We look for companies that can help us solve our biggest problems and turn them into the biggest opportunities. As the food industry evolves to meet the ever-changing demands and needs of consumers, our ability to move quickly and with agility is more important than ever, so we must also look at how we can foster an entrepreneurial spirit with the speed of a start-up and continue to learn from our Eighteen94 entrepreneurs.
Working within the start-up space, there is a lot to be excited about. There are endless sources of opportunities and inventive ideas, but there are clearly still gaps in technology we need to solve some of our biggest challenges. For example, across major food and beverage companies, there is work happening to reduce the use of plastics and shift to paper-based packaging.
However, with the current technology available, there isn't a perfect replacement. We completed our own experiment in the UK with a paper-based Pringles can and, while it was a step in the right direction, the technology design is still proving to be a challenge. So, there remains opportunity for invention and technology progress. This is exciting to me.
When it comes to encouraging more female entrepreneurs, now is a great and important time in history to do everything possible to help forge a more gender-equal world. I do think the industry can do more to support and advance the representation of women entrepreneurs.
This starts with understanding the diversity of how women think, how we approach problem-solving, how we collaborate, what our aspirations are, and what success looks like for us. As we continue to meet with entrepreneurs, we are starting to see more female start-up CEOs.
"The venture-capital world can help foster female entrepreneurship by investing in them" – Amy Tu, president, Tyson Foods' Tyson Ventures  
With a population that is estimated to grow by an additional 2bn in 30 years, it will take innovation in all areas of food to feed the world sustainably, affordably and nutritiously.
What's exciting is that food innovation is happening faster than ever before in multiple areas, from alternative proteins, including plant-based proteins and cell-based meat, to better traceability and transparency in the food chain, to delivery models such as direct-to-consumer and ghost kitchens.
Tyson Ventures focuses on three strategic investment areas – emerging proteins, enabling technologies and innovations that empower people, protect our planet and cultivate smart, responsible agriculture.
Looking specifically at the future of emerging proteins and broadly speaking, demand for all types of protein is growing globally. Within that, the interest and desire for sustainable ways to produce protein is also growing steadily.
This growth is driven by people who enjoy and eat meat and want a sustainable food system for many generations to come. Globally, we expect the alternative-protein category to grow double digits annually over the next five years, and we want to be a part of the leading edge of thinking in this area.
Working in the start-up space, it's exciting to see and be an enabler of the innovation that we are seeing today in the food industry. The entrepreneurs we meet have so much passion and creativity in thinking about new ways that food can be produced and delivered to consumers today and in the future.
In terms of encouraging women, the venture capital world can help foster female entrepreneurship by investing in them. In 2020, 2.3% of total funding went to female-led start-ups – a fall from 2.8% in 2019.
Tyson Ventures is proud to be an investor in New Wave Foods, a plant-based seafood start-up, founded by a true visionary – Michelle Wolf, and operated by a star CEO in Mary McGovern. By investing in companies founded and run by women, we hope that it leads other venture capitalists to do the same.
"We must look outside our own walls and bring in those who are on the cutting edge of emerging trends and technologies" – Brigette Wolf, global head of SnackFutures at Mondelez International
From the start, SnackFutures' mission has been to create a snacking world that is good for people, kind to the planet and deliciously fun. Wellbeing is not only what consumers increasingly want from their snacks, but where we have enormous growth potential as a global snacking leader.
To do that, we also know we must look outside our own walls and bring in those who are on the cutting edge of emerging trends and technologies. Through [snacks accelerator] CoLab, we hope to find those types of start-ups that can benefit from our expertise and, ideally, be a growth opportunity for Mondelez International.
Working with start-ups has been one of the most energising and humbling experiences in my career. Having worked in Big Food for more than 15 years, I'm now building a team that can support entrepreneurs in their journey to make an impact on the world through food. Equally as exciting is what I've personally and professionally learned from these start-ups. Their tenacity and commitment to put new brands and solutions out there is so inspiring, it makes me proud to be part of this industry.
In the spirit of International Women's Day, I believe my most important achievement is setting an example for how women can succeed in building business while also fostering a culture of collaboration and inclusion.
SnackFutures is a small but mighty team that has created and launched five brands in two years, supported the start-up community in a very meaningful way and are sharing back our learning with the entire organisation. I can't tell you how many colleagues throughout the globe – both those I know and those who are new to me – have reached out to say how much they are inspired by us and would love to join SnackFutures. That's the best reward.
To encourage more female entrepreneurs, the industry needs to do three things: keep closing the funding gap for female entrepreneurs – it's still too large, in my opinion; give female entrepreneurs equal opportunity to succeed or fail – often they're just not given the same chance to prove themselves; and for big companies like ours, elevate females in leadership positions to set the bar high for everyone.