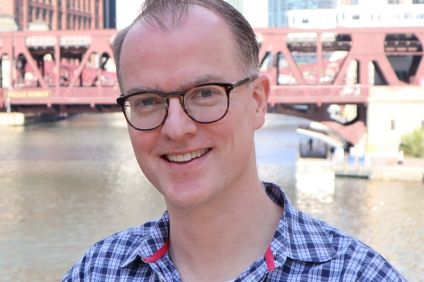 Like many large food companies, Kraft Heinz has an investment fund looking to back start-ups in emerging areas of food and tech. Dean Best speaks with Steve Sanger, a partner at the Evolv Ventures, about how the fund can help the ketchup-to-cheese giant, which has had its challenges in recent quarters.
It has, by now, become part of the corporate strategies of almost all the world's largest food companies: to set up an investment fund to back fledgling firms doing business in the developing parts of the industry.
From Unilever setting up Unilever Ventures back in 2002 to Mondelez International and Kraft Heinz each launching units in the autumn of 2018, the larger players are using these entities to learn from smaller peers that are often shaking up parts of the industry and are growing as they go about it.
Kraft Heinz, home to some of the oldest, most enduring brands in the business, unveiled Evolv Ventures last October. The Chicago-based fund has US$100m to invest in what the US food giant described at the time as "emerging tech companies transforming the food industry". Kraft Heinz said it wanted to "accelerate the company's exposure to emerging technologies and businesses, and better leverage its position in the industry".
"At Evolv Ventures, we will move beyond brands to have a committed first look at our industry's most promising and disruptive tech-enabled companies," Bill Pescatello, Evolv Ventures' managing partner, said last October.
Alongside Pescatello in Evolv Ventures' team of four is Steve Sanger, who joined the fund as general partner with a CV including five years at US online food ordering and delivery marketplace GrubHub.
Speaking to just-food, Sanger says the rationale for setting up Evolv Ventures was "twofold" – listing, first, a financial return on Kraft Heinz's investment and then working with the company about their "priorities" and providing the business with the fund's "learnings about what we're seeing in the marketplace".
A number of Kraft Heinz's peers launched investment arms or funds before the ketchup-to-cheese giant. Asked why Kraft Heinz lagged some of its peers, Sanger refuses to be drawn – but does outline what he sees as some of the benefits of how Evolv Ventures has been set up. "I can't speak to what had happened prior to me coming aboard in relation to these other companies. But I think Bernardo [Hees, former Kraft Heinz CEO) at the time who set it up, really saw the value in getting into the space," he says.
"I think we were really thoughtful in terms of how we set up the fund. Bill, my partner, was a partner in a $200m venture-capital firm prior to joining Evolv Ventures. I worked for GrubHub. We're fairly new to the broader Kraft Heinz organisation but we come from a combination of traditional venture and start-up backgrounds. The team was very supportive at the executive level to structure the fund in a certain way to help us mitigate some of the perceived challenges associated with corporate venture capital.
"We don't invest off the balance sheet. We're a dedicated fund, which is pretty unique. We've set up a broader incentive structure that's more akin to financial venture. We have this nice hybrid of being able to leverage the asset that a company like Kraft Heinz can bring to bear, coupled with an incentive structure and an alignment of incentives for the team to really go out and find the best deals."
That Kraft Heinz set up a fund to invest in and learn from some of the more cutting-edge parts of the food tech arena was something of a surprise, given the modus operandi of its shareholders 3G Capital and Berkshire Hathaway.
3G Capital has shaken up swathes of the food and beverage sectors in recent years. Its strategy has been built on M&A and then driving synergies from the transactions to grow margins. The margin improvement at Kraft Heinz has been strong – its annual operating profit margin rose from 15.1% in 2014 to 23.5% in 2017 – and had prompted almost all listed majors to take long, hard looks at their own costs. Many US food manufacturers fell into line, adopting what has commonly become known as the "3G model".
However, the question about Kraft Heinz has always been about its long-term, top-line growth. Savings can only go so far in boosting margins. Over time, sustainable sales growth is needed, too. And Kraft Heinz has not been able (or, some would say, willing through investment in its brands) to consistently grow its top line, either on a reported or an organic basis.
In February this year, Kraft Heinz instigated a multi-billion dollar write-down on some of its major brands, resulting in a huge fourth-quarter loss and its shares plummeted.
In April, the company appointed a new chief executive, hiring Miguel Patricio from brewing giant Anheuser-Busch InBev, with Hees moving back to 3G Capital "to focus on other projects". AB InBev, also home to brands including Stella Artois and Beck's, is not a portfolio company of 3G but was created by the founders of the private-equity firm.
Sanger joined the Evolv Ventures fund last November and, asked to outline his impressions of Kraft Heinz from the outside, was again careful in his response.
"I can't comment on the view of what I thought about Kraft Heinz before," he says. "The long story short is that it's a company with unbelievable brands and I've always been passionate about venture and the intersection of food and technology. This was a platform that allowed me to do that and work with great people.
"When you look at what the broader organisation can bring to the table, it helps to de-risk those investments that we look at. And if we can play a role in helping the company identify opportunities – not only from an investment standpoint – that are on their radar screen, which may play a role in the broader organisation, that's fantastic. That's what gets me excited."
But one could assume Kraft Heinz has set up this fund to help it, over time, inject more growth into its top line?
"I would say this: we're a US$100m fund. The objective is to return money on that $100m, which has an overall benefit to Kraft Heinz," Sanger says. "That's one of the objectives of why they set up the fund, but it's also to bring some of the learnings that we're saying back into the organisation. That's how we see it first and foremost.
"When we look at the fund, and we bring deals up for approval, the way that we're structured along the incentives for our team, we all want to make money first and foremost, right? Secondly, we look at what are the strategic benefits potentially to Kraft Heinz?"
He adds: "I don't necessarily have to bring a deal that has an immediate strategic tie to Kraft Heinz. That said, if you have two deals, we'll certainly prioritise deals that have a potential strategic tie but we don't lead with the operational tie. That differentiates us vis a vis others in this space. We lead with the financial return first, operational tie second, where others are solely focused on operational tie."
Sanger provides more colour on how he sees Evolv Ventures differing from other 'Big Food' investment arms.
"Without getting into too much specifics, it really focuses on how the fund is structured. Being a dedicated fund is very different than a balance sheet fund. In a balance sheet fund, if the economy goes south, those same companies that had venture funds, all of a sudden they don't have those venture funds, or they pause on investing. We have a dedicated fund that allows us to make investments over a consistent period of time," he explains.
"And I think it gets back to the financial structure. Without getting into too much detail, the incentive structure for the team more aligns with traditional venture, which is very different than what you'll find in the corporate venture capital world traditionally. And we did that because you want partners to have incentives that align with the founders. That's really the biggest differentiator."
One would assume Kraft Heinz is looking to invest in "emerging technologies and businesses" (as the company put it last year) as there are product or service developments about which it wants to learn.
Asked what were the capabilities on which Kraft Heinz wanted to improve, Sanger replies: "Well, I think first and foremost is we play across a lot of sectors across the food value chain. We invest in food tech, which encompasses alternative proteins, ag tech, sustainable packaging. We invest across industrial technology, supply chain logistics, and warehouse automation, as well as consumer data and marketing insights, retail and restaurant technologies, and overall B2B and B2C models involving food. So we're having lots of conversations. When you look at organisations that are forward-looking they're not maybe looking ten years forward."
So far, Evolv Ventures has announced two investments. In April, the fund backed GrubMarket, a food-to-table delivery service, based in San Francisco, which sources local food from producers and delivers it to businesses and consumers. Two weeks ago, Kraft Heinz unveiled an investment in another San Francisco start-up, New Culture, which is developing "animal-free" varieties of cheese.
"New Culture, we're very excited about," Sanger says. "There's going to be a lot more people on this planet, we need to feed those people and I think it's going to come from a variety of means, one of which is utilising fermentation and biotechnology, to create more cheese. You see that occurring in the meat space.
"As for GrubMarket, the thesis was the supply chain and distribution business is a $380bn business here in the US and there's really been no company that's really disrupted that space from the Syscos and US Foods. GrubMarket has built a very sizeable business in a very short period time, located in California, San Diego and San Francisco, with plans to expand nationally. They're able to put more money back in the farmer's pocket and provide a better deal to their end B2B customers, namely restaurants and grocery retail, to really streamline that existing supply chain, which is pretty convoluted."
Sanger says he "can't get into too many specifics" about what are the immediate projects for GrubMarket and New Culture. "You'd have to ask them directly," he says. "Most importantly, they're head down looking to build very big businesses, and we support them."
But what can Kraft Heinz learn from the two fledgling companies?
"First and foremost, I'm looking to take the investment that we made and get a financial return on it," Sanger says. "There's a time and a place for broader company engagement. I came out of the start-up world and it's a very delicate balance. New Culture and GrubMarket are very exciting opportunities but part of the role that we play at Evolv Ventures is to kind of broker that relationship amongst Kraft and those companies and think about when is the right point for them to engage. There are benefits they both can bring to bear but this is GrubMarket's company and it's New Culture's company and we'll be supportive in the businesses that they want to build. If they want to lean on our expertise, we're happy to do so; if they want to be heads down, we'll happily be supportive in any way possible."
Other executives heading up investment funds for Kraft Heinz's peers tend to talk about learning from the agility of their investees and say their own, larger companies can provide expertise in areas such as brand-building, supply chain and distribution.
"I think that they're strengths that we can certainly bring to bear for each of these companies," Sanger says. "I think it just depends on when the company wants to engage with us and when it makes sense to really engage and when they're going to get the most benefit of that Kraft Heinz potential relationship right behind Evolv Ventures."