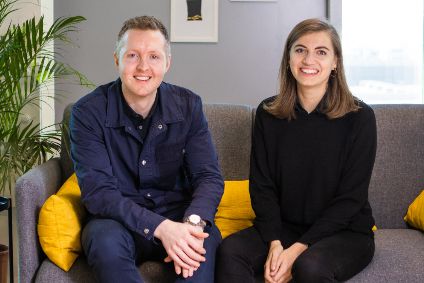 London-based Young Foodies was set up three years ago by Chris Green and Theadora Alexander, who met while working for rival popcorn companies. It operates as a members' organisation and a consultancy for challenger brands in the food industry, providing services from recruitment and training to supply chain solutions. Andy Coyne met them to find out more.
just-food: How did Young Foodies come about?
Theadora Alexander: My background was in FMCG at [UK healthy snacks maker] Propercorn. I left to become a consultant to high-growth challenger brands. Chris was at [local peer] Metcalfe's. He left at the same time. We talked through trends in the industry, about the rise of challenger brands and how life for them was a lot harder than it needed to be. We saw value in empowering these brands. We set up Young Foodies in 2017.
just-food: What approach did you decide to take?
Chris Green: We started with our existing network. We took both an altruistic and economic approach. The altruism was we were passionate about small businesses and challenger brands that build categories. It started from a passion for us.
Theadora Alexander: The economic rationale was that retailers now wanted these brands. That's where the margin is and that's what consumers want. It was a network of 1,000 brands but with no economies of scale. There was a huge arbitrage opportunity to unlock those economies of scale. Young Foodies started as a community sharing knowledge but developed into something sharing services.
just-food: What sort of services?
Theadora Alexander: It could be opportunities around the supply chain. We now have a supply chain team that helps process orders and check deliveries.
Chris Green: We've now got a lot of capability. Everybody wanted to collaborate but they also wanted us to help them build their business. We are now a professional services business that helps people to recruit, train and supplies supply chain services and lots of other things, including working with people in areas such as legal and tax. Members pay for services as they need them.
just-food: What size businesses are we talking about?
Chris Green: The size of business we work with goes from pre-revenue all the way up to GBP20m (US$26m) but they have to have a product or brand.
"The sweet spot for us is people trading with the multiples which don't have the capability to deal with the growth"
Theadora Alexander: The sweet spot for us is people trading with the multiples which don't have the capability to deal with the growth. It might be businesses with between GBP3m and GBP10m annual turnover.
just-food: What are the issues challenger brands face?
Theadora Alexander: There are structural issues but ultimately there are a huge number of brands and barriers to entry such as the availability of capital and the rise of online.
Chris Green: Policymakers need to supports SMEs. There was very little talk about SMEs in the whole Brexit debate.
Just-food: Is it important that challenger brands have mentors?
Chris Green: We bring experts in and will inject expertise. You have to know what you are getting yourself into. There is a lot of stress.
Theadora Alexander: The brands we work with have been through a lot already and are now on that harder journey of sustaining growth. It can be incredibly hard to start a business but you need stamina to keep it going.
just-food: Do you have to turn some businesses down, for reasons of size, or because you don't believe in what they are doing?
Chris Green: We try to give honest, practical advice. If it is genuinely going to be challenging for them to launch a product we want to give them the facts even though it may be dashing their hopes. We try to spell it out for them. The market is saturated and there are a lot of me-too products out there. There is not enough room on the shelves. But there are still untapped areas.
Theadora Alexander: A lot of brands are not equipped to play the game. Those seriously going for growth may be held back by brands taking it less seriously. People don't realise just how hard it is. We work with those who do understand.
just-food: Was that the thinking behind your 'Rise to the Challenge' campaign last year?
Chris Green: These brands are the future of the consumer industry. The campaign was to get them to be a bit more vocal and to stress that there is still not a level playing field when it comes to retailers, wholesalers and third-party logistics providers. There are more challenger brands in existence than there have ever been. Some retailers have opened their doors and adopted these models faster than others. But it is still an industry that is created to work with FMCG multinationals.
just-food: Do you get involved in the M&A side of things and have you seen much activity in this area?
"We see there being more consolidation in the GBP3m-GBP15m [sales] area"
Chris Green: It's a tough trading environment. We saw a bit of it last year, a bit of consolidation and a few bought out of administration – decent brands that had built some scale. We see there being more consolidation in the GBP3m-GBP15m area. Not every GBP3m brand will become a GBP30m brand but in a portfolio with 30 others it may become an interesting proposition.
Theadora Alexander: We have a corporate finance side of the business. We are also seeing big food companies establishing incubators for these future brands and taking a negligible or semi-meaningful stake. They have to do something to future-proof their business, I do understand that. They have to find a way of participating. They are switching spend away from their own product development towards this.
Chris Green: They use them as their own innovation arms.
just-food: How do you see retailers reacting to all of these new brands knocking on their door?
Chris Green: Retailers are in huge flux because of the noise from the challenger brands.
Theadora Alexander: They can't be ignored. Our brands grew 94% last year as a group. That's GBP250m growth.
just-food: What are your ambitions moving forward?
Chris Green: Fundamentally we want to leave a legacy in the industry, sitting between SME fast-growth, challenger brands and the industry. We see our role as the facilitator or the enabler of that. We can take this business in so many directions. We can do a lot from the platform we've built.
Theadora Alexander: We've made sure our services are the best they can be. We hold ourselves to very high standards so that we can deliver on our promises. It's about understanding the brands better than anyone else can.