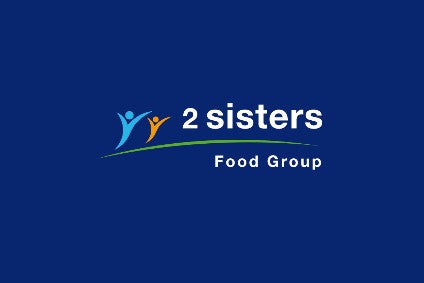 2 Sisters Food Group confirmed the UK-based poultry processor is conducting a sale of its Matthew Walker Christmas pudding business as chief executive Ronald Kers' turnaround strategy gathers pace.
However, despite announcing investments today (21 May) in its poultry operations and the Fox's Biscuits arm, 2 Sisters said a loss-making processing plant in the town of Witham in Essex, a county located in east England, is due to close, putting workers' jobs at risk.
The potential closure of the Witham poultry facility falls under an ongoing review of the company's loss-making sites and a consultation process with affected workers has been launched, with an offer of redeployment to other factories within the group.
Kers said in a statement: "We're all acutely aware that some of our plans, such as reducing our UK poultry footprint, brings uncertainty for colleagues, and it is with regret that we have to make such proposals. But the alternative of doing nothing and hoping for an upturn is not an option."
A spokesperson for 2 Sisters told just-food that 555 people work at the Witham site.
The former chief executive of Germany-based dairy group Unternehmensgruppe Theo Müller joined 2 Sisters almost a year ago and has continued with a business transformation instigated by multi-millionaire owner Ranjit Singh Boparan, who stepped down as CEO of the group last year to become president of parent company Boparan Holdings.
Kers has overseen a number of disposals as 2 Sisters seeks to cut its debt pile and improve its financial performance having posted losses in the wake of a food hygiene scandal at a poultry processing plant in the West Midlands in 2017, the repercussions of which spilled over into the following year.
Earlier in May, Sky News reported Matthew Walker was destined for the chopping block for a potential sale price of GBP80m (then US$104.3m).
Kers provided an update today on what he called speculation over Matthew Walker. "We have been clear for some time now that we will realise the value of our businesses to improve our balance sheet only if it is strategically right for us to do so.
"It is quite natural to get this kind of speculation and, although we do not normally comment, we are in the early stages of a sale process for Matthew Walker and anticipate strong international interest. However, we will only sell at the right time and for the right value, and our colleagues would be the first to know if this were to happen."
Today's statement was a mix of good and bad news. 2 Sisters said it plans to cut the number of poultry sites "to produce shorter, more efficient supply chains delivering quality products and high service levels and [to] become more competitive against its peer group".
But at the same time, the company said it is making further investments in its poultry and Fox's Biscuits businesses, despite the planned closure at Witham.
Despite the planned investment for Fox's, 2 Sisters revealed in March that 250 jobs were at risk its the loss-making biscuits site in Uttoxeter, Staffordshire in the West Midlands as the company launched a "major investment plan to maximise new growth and commercial opportunities". A total of 880 workers are employed at the plant.
The 2 Sisters' spokesperson provided an update on the plans: "We are still in consultation with the Union and individuals, and we expect consultation to close at the end of May. We continue to work on mitigating the number of compulsory redundancies through a voluntary programme and retention of some volume."
Kers added: "There is now a pressing need to accelerate our turnaround so we can further increase the performance of our business. That's why we're keen to invest where we see potential growth: our UK poultry business will benefit from this further investment and work which has already started to get Fox's Biscuits in shape for the future ramps up to the next level with some major investment around automation, marketing and product innovation."
Investment plans for the poultry business have yet to be decided, the spokesperson said.
On a more positive note, 2 Sisters said its bakery business in the east Midlands has secured "new, longer term, customer commitments". The Gunstones bakery site in Dronfield, Derbyshire, now has a "strong platform on which to build a sustainable future".

Kers added: "After a very challenging few years, there is now a strong foundation for future growth, although there is still some work to be done to make the site [Gunstones] more efficient and to get more volume for the business."