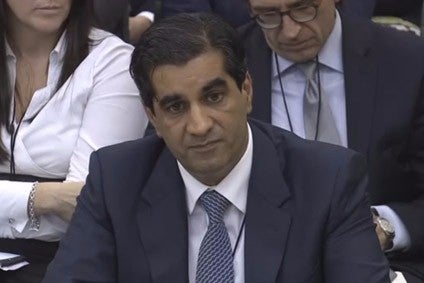 The owner of UK poultry processor 2 Sisters Food Group, which is under investigation for alleged breaches of hygiene standards, has told a parliamentary committee "mistakes have been made" and pledged to improve food safety at all the company's plants.
Ranjit Singh Boparan faced questioning yesterday (25 October) at a hearing of the Environmental Food and Rural Affairs Committee (EFRA) about an undercover probe at a 2 Sisters plant by The Guardian newspaper and ITV News, which claimed to reveal workers tampered with slaughter date labels on fresh chickens and also returned dropped birds from the factory floor to the production line.
Major UK supermarkets such as Tesco, Sainsbury's and Marks and Spencer immediately suspended supplies from the firm following the revelations, while both 2 Sisters and the UK Food Standards Agency (FSA) launched investigations. The company consequently closed the West Bromwich plant in the Midlands while staff underwent retraining.
Boparan told the hearing he was "very disappointed and upset" when he was made aware of the allegations.
"We absolutely apologise for the doubt caused to customers, consumers and employees," Boparan said. "Someone's made a mistake and I have to take responsibility for that."
Chris Gilbert-Wood, 2 Sister's group technical director, told the hearing the company has since made some changes to its labelling system following the allegations, adding the "process was not as robust as it could be".
Boparan told the EFRA committee that, following the undercover probe, the findings of which aired on UK television, the company had initiated more stringent training and planned to put closed-circuit television in all of its plants. He said the West Bromwich site had CCTV but it did not cover the whole factory floor, adding someone will now constantly monitor screens for food safety during production hours.
The three-month footage captured by CCTV at the West Bromwich plant has been offered to the FSA, which is arranging to see it, Boparan said.
When asked by a panel member about dropped birds returned to the line, Boparan said it "absolutely should not have happened".
He told the hearing 2 Sisters has 30 tonnes of product a week that has to be disposed after being on the factory floor. Putting that in context, he said 2 Sisters processes about 6.5m chickens a week, or about 10m kilograms.
Asked to comment whether food safety regulations had been breached at West Bromwich, Boparan would only say "mistakes have been made".
The 2 Sisters owner acknowledged a suggestion by a panel member the company should tell the FSA it wants inspectors in all of its plants at the firm's own expense. "We welcome it and accept it."