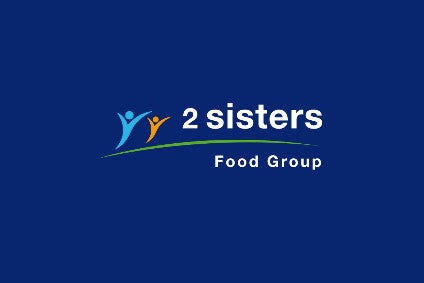 2 Sisters Food Group plans to shut down three loss-making poultry plants located in the West Midlands and South Lanarkshire, putting 900 jobs at risk.
Around 450 positions are set to go at its factory in Cambuslang near Glasgow, along with 350 at Smethwick and 100 at Wolverhampton, both in the West Midlands. A consultation process is underway to determine the number of job losses and the timing of the factory closures, a 2 Sisters' spokesperson told just-food today (9 February).
However, the company said 1,000 new jobs will be created at other sites as it invests in more profitable areas of the business. Those people whose jobs are on the line will be offered positions elsewhere.
"As we continue to build a better business, we are simplifying how we work and investing in the areas that can make the most positive difference to our UK poultry operations," 2 Sisters said in a statement.
"However, we do have areas of significant challenge and regrettably 900 roles will be at risk at three sites loss-making sites, which we propose to close. Our focus now will be to support all affected colleagues and explore all alternative options available to us before making any final decisions."
The company's spokesperson told just-food that once the plant in Smethwick, known as 'site C' closes, 2 Sisters will have no more production facilities in the town after it shuttered 'site A' within the same complex last year.
Unite, the UK's largest union, said it will lobby 2 Sisters to try and save the jobs after the cuts were announced to workers on Thursday and it plans to enter consultations with the company over the coming days and weeks.
In a statement, the union said: "It may not be a viable option for workers at the Cambuslang site to be redeployed because of the distances involved to the other sites run by the company in Scotland, while workers in the West Midlands who keep their job face disruption and uncertainty.
"Workers who have stuck with the company through thick and thin and worked hard to make it a success will inevitably feel a sense of betrayal. The 2 Sisters Food Group needs to engage in the consultation constructively and be willing to listen to alternatives to site closures."
2 Sisters' site closures follow a tumultuous four months or so for the company. An undercover investigation by The Guardian newspaper and ITV News last year found cases of poor hygiene standards and tampering with chicken slaughter-date labels, which led to the temporary closure of a plant in West Bromwich in the Midlands, known as 'site D'.
Those findings culminated in a probe by the UK's Food Standards Agency into 2 Sisters' operations and the appearance of company owner Ranjit Singh Boparan before a parliamentary committee hearing to explain the allegations. He pledged to improve processes and procedures across all the company's factories.
Despite the job losses just announced, in January 2 Sisters said it planned to create more than 130 jobs at its plant in Derby, central England, after winning a new deal from what it said was a "major retailer". And in December, the company announced 100 new jobs as part of an expansion to its factory in Flixton, Suffolk.
2 Sisters also revealed last July around 150 new jobs were due to be created at its Coupar Angus facility in Perthshire, Scotland.