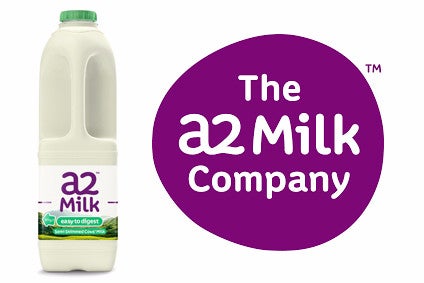 An Australian newspaper has spurred speculation today (16 August) that A2 Milk Co. could be the target of a takeover, with Nestlé purportedly an interested party.
The Australian reported unspecified industry sources as saying the world's largest food company 'has a close eye' on New Zealand-headquartered A2 Milk, although they said no further development is expected before the company publishes its annual results on 26 August.
Fresh milk and infant-formula producer A2 Milk has seen pressure emerge on its financial performance of late, particularly from China where demand for baby-milk products has waned as birth rates decline. The company cut its annual revenue and profit margin forecast in May – it also took similar action in February – citing the same China issue along with regulatory changes in the Asian country and the impact of Covid-19 on its business.
However, A2 Milk is not alone, as Nestlé itself has experienced pressure on its infant-formula sales in China as people have fewer children and more mothers choose to breast feed.
Responding to The Australian report, an A2 Milk spokesperson told Just Food the company "does not comment on market speculation or rumour". It was a similar response from the Swiss business, with a spokesperson saying, "Nestlé does not comment on market rumours".
A2 Milk noted in a May stock-exchange filing that the "trading dynamics in the China infant-nutrition market have been and continue to be challenging".
At the time, the company cut its annual revenue forecast to a range of NZD1.2bn (then US$875.7m) to NZD1.25bn, from a revised estimate in February of NZD1.4bn. Last November, the company had envisaged a print of NZD1.8-NZD1.9bn.
The revision to the revenue outlook in February was instigated because of pressure on sales in China through the daigou channel, where traders outside that country buy products for customers to be shipped back to the market, and also its cross-border e-commerce (CBEC) business.
A2 Milk also lowered its EBITDA margin outlook in May to 11% to 12%, from the revised forecast of 24-26% made in February. Back in November, it had envisaged a rate of 31% for fiscal 2021.
It added then: "The company recognises that the China infant-nutrition market structure is changing rapidly. While the premiumisation trend is continuing, market growth is being impacted by a more pronounced decline in birth rates. It is also clear that the daigou/reseller channel has been cyclically impacted by Covid-19, regulatory and other structural factors."