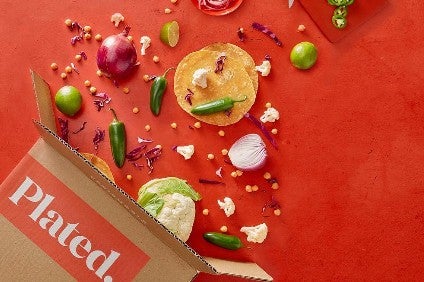 US food retailing giant Albertsons has snapped up local meal-kit business Plated, the latest acquisition in a category that has grabbed the attention of grocers and manufacturers.
Plated, set up in 2012, will be run "as a distinct consumer brand with its own leadership team", led by co-founder and CEO Josh Hix, Albertsons said. The company will continue to be headquartered in New York City, with fulfillment centres across the country. Financial terms were not disclosed.
Albertsons said acquiring Plated's "leading technology and data capabilities" was "a strategic step" for the retailer as it looks to focus on personalising and customising products.
The companies want Plated to "become the first omnichannel meal kit offering with national scale", the retailer said.
Bob Miller, Albertsons' chairman and CEO, said. "Plated knows its customers better than anyone, and together we will accelerate our ability to serve them. We are excited to offer our customers more online options and fresh, quality ingredients along with distinctive recipes at their doorstep or through traditional shopping trips."
The development of online meal-kit businesses has attracted the interest of food manufacturers and retailers operating in North America.
Last month, Canadian food retailer Metro Inc struck a deal to acquire a majority stake in Montreal-based meal-kit maker MissFresh.
In June, Nestle acquired a minority stake in US online meal-kit service Freshly, one of a series of investments packaged food majors have made in the category.
Earlier this year, Campbell Soup Co. backed, as the sole investor, US direct-to-consumer personalised food and nutrition start-up Habit and, more recently, made a $10m investment in US meal-kit start-up Chef'd.
Unilever, meanwhile, in May led a $9m investment in US meal-kit start-up Sun Basket.
Reflecting on selling Plated to Albertsons, Hix said: "There's tremendous upside for Plated's customers whose experience with our brand will only get better. As meal kits continue to gain traction in the marketplace, we believe the winning formula combines choice, flexibility, culinary expertise, and the ability for customers to buy across channels – all of which we are now singularly positioned to deliver in collaboration with Albertsons Cos."