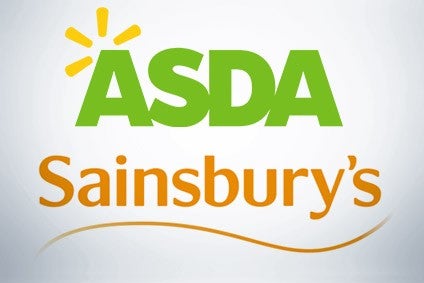 The UK's competition watchdog has launched its formal investigation in relation to the anticipated merger between 'big four' supermarkets Sainsbury's and Asda
The Competition and Markets Authority (CMA) has today (23 August) issued a second invitation to comment on the proposed deal, "giving all interested parties a further opportunity to submit views about the impact that the proposed merger could have on competition in the UK and about whether there are any objections to the use of the fast-track procedure in this case".
All views already submitted as part of its preliminary invitation to comment, launched in May 2018, will also be taken into account.
Sainsbury's and Asda – currently owned by US retail giant Walmart – announced their plans to merge in April this year in a deal which will make the merged business the UK's largest supermarket group.
But it was anticipated from the outset that as the deal would give the new entity a market share of more than 30% it was likely to be scrutinised by the CMA.
In June the bosses of the two retailers faced a grilling from a committee of UK Members of Parliament.
The supermarkets confirmed to the committee that synergies from their proposed merger are likely to come from re-negotiating deals with suppliers.
Asda and Sainsbury's said that they will operate as separate businesses if the merger is green-lighted, prompting politicians to ask where savings are likely to be made, especially as the supermarket giants have committed to slashing the prices of best-selling items by 10% post-deal.
The CMA will look at whether the merged company could use its size to squeeze the prices it pays suppliers.
The chief executive of the CMA, Andrea Coscelli, said: "About GBP190bn (US$244.7bn) is spent each year on food and groceries in the UK so it's vital to find out if the millions of people who shop in supermarkets could lose out as a result of this deal.
"We will carry out a thorough investigation to find out if this merger could lead to higher prices or a worse quality of service for shoppers and will not allow it to go ahead unless any concerns we find are fully dealt with."
The BBC reported that analysts have estimated that the CMA will recommend that 6%, or 73, of the combined group's supermarkets should be sold off.
Meanwhile, Invesco Perpetual, a leading shareholder in Sainsbury's, has resoundingly backed its proposed merger with Asda, saying that it would help the supermarket to go "toe-to-toe" with Tesco.