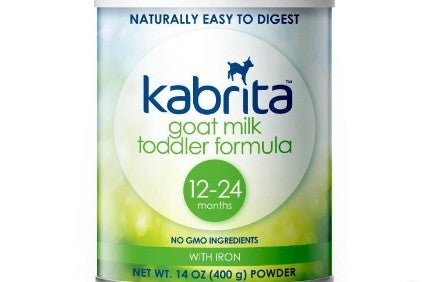 Hong-Kong listed infant-formula maker Ausnutria Dairy Corp. has revealed that it has made a number of strategic moves as part of its attempts to gain further market share for the Kabrita brand.
Ausnutria, which produces own-label and private label infant formula from its principal manufacturing bases in the Netherlands, Australia, New Zealand and China, provided an update on its latest acquisitions as it reported a more than 50% increase in first-half revenues.
The company's brands include Kabrita goat milk powders and A-choice made from cow's milk, along with Allnutria and Hyproca. It supplies markets in China, North America, Russia and the Middle East.
A deal first announced this April, which will see a Chinese investment firm become the largest single shareholder in the company, is still awaiting shareholder approval. According to the latest details, CITIC Agri Fund Management Co., backed by state-owned CITIC Group Corp., is currently in the running to buy an 18.7% stake in Ausnutria, with a further holding to be bought from Taiwan-based pharmaceutical firm Center Lab Group. The Chinese fund's stake will amount to almost 24% once approved.
In other deals, Ausnutria said it bought 50% of Ausnutria Joannusmolen (AJM), formerly Joannusmolen Nutrition, for EUR4m (US$4.5m) in July through a third party, AJM Vendor, which owns the remaining stake. AJM Group was formed in 1982 and has been a private-label customer of Ausnutria since 2011.
AJM produces infant-formula milk powders and cereals under the brand names Ekobaby and Biobim, supplying markets in Europe and China.
Ausnutria "believes that the AJM acquisition not only facilitates the group's presence in Europe, but also provides an immediate and well-established platform for the group to launch Kabrita and other products in Europe", the company said in its earnings statement.
And in June, Ausnutria purchased the remaining 50% stake in Ozfarm Australia for HKD129.8m (US$16.5m) after taking an initial 50% holding in July 2017. The final purchase price is subject to an adjustment, which will be determined based on the financial performance of Ozfarm – which is reportedly the number one maternal women's milk powder brand in Australia – for the two years ending 31 December 2020 and 2021.
With Ozfarm now a wholly-owned subsidiary, Ausnutria hopes the deal will help the group further expand and develop its business in Australia, China and other overseas markets.
Then in February, Ausnutria said it acquired the remaining 15% stake in Hyproca Nutrition Hong Kong and HNC, known collectively as the HNC Group, which supplies goat milk nutrition products, in particular the Kabrita brand, in Hong Kong, Macau, and China.
Ausnutria commented: "With the increasing recognition of the quality and high nutritional value of goat milk infant formula, Kabrita has progressed significantly and become a major engine for the group's business growth. Furthermore, the market share of Kabrita has been ranked as the number one imported goat milk infant formula in the People's Republic of China for four consecutive years since 2014. The company is of the view that Kabrita will continue to grow steadily and contribute positively to the group."
For the six months to 30 June, Ausnutria's group revenue climbed 51.6% to CNY2.58bn (US$373.8m), while adjusted EBITDA rose 54% to CNY412m.
Profit attributable to shareholders increased 73% to CNY153m and gross profit margins were up at 46.4%, from 41.9% a year earlier.
Sales of own-branded cow milk infant formula increased 80.5% to CNY1.17bn, with its Allnutria, Hyproca, Puredo, Mygood and Eurlate products "enjoying remarkable sales growth".
Kabrita continued to "maintain its leading position in the imported goat milk-based infant formula sector in the PRC". Sales rose 77% to CNY796m.
The Kabrita brand accounted for around 30.8% of the group's total revenue, and has become a key cash earner for the business. "As such, the group will continue to launch Kabrita in other major countries with the aim of becoming a global market leader in goat milk infant nutrition products," Ausnutria said.
However, the private-label business declined in the first half as the company shifted more capacity over to its own-label products. Sales fell 19.5% to CNY192m.
In other developments, Ausnutria said it completed construction of two new factories in the Netherlands and New Zealand at the end of last year.
Chairman Yan Weibin said: "We firmly believe that the continuous increase in sales of the own-branded milk formula products and gradually enhanced operational efficiency will allow us to achieve ever-expanding growth results."