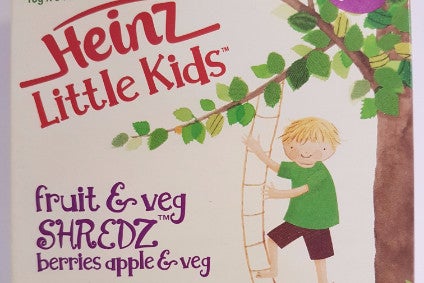 Australia's consumer watchdog is reportedly calling for the local unit of Kraft Heinz to be fined for misleading customers over the health benefits of its Little Kids Shredz products.
The Australian Competition and Consumer Commission (ACCC) is recommending a fine of AUD10m (US$7.4m) be lodged against the food giant, which claimed Little Kids Shredz snack products were beneficial to the health of children of one to three years, despite containing more than 60% sugar, according to local media reports.
According to The Sydney Morning Herald, the counsel for the ACCC, Tom Duggan, said in a hearing in the Federal Court in Adelaide on Wednesday (1 August) any penalty imposed on Kraft Heinz had to be sufficient to act as a deterrent against similar conduct by the company and others operating in the food industry.
Sales of Little Kids Shredz were suspended in May 2016 and the following month the ACCC instituted proceedings against Kraft Heinz alleging images and statements on the products were misleading. In March this year, the Federal Court agreed with the claims.
Speaking about the level of the fine that should be imposed, Duggan said: "If it's not big enough, in the end it simply doesn't represent a sufficient deterrent", adding that Kraft Heinz's conduct was considered as "wilful blindness" and "recklessness", according to the Herald.
Heinz is reportedly opposed to a AUD10m penalty but has not suggested an alternative figure, the court heard.
Shredz were a dehydrated snack made from 99% fruit, vegetable and chia seeds, and were free from preservatives, artificial colours or flavours, but still high in sugar.
"I am satisfied that each of the Heinz nutritionists ought to have known that a representation that a product containing approximately two-thirds sugar was beneficial to the health of children aged one to three years was misleading," Duggan said.
The Herald reported Kraft Heinz had previously defended the allegations, saying it is "committed to providing high-quality food products and to communicating clearly and transparently with consumers on its packaging".