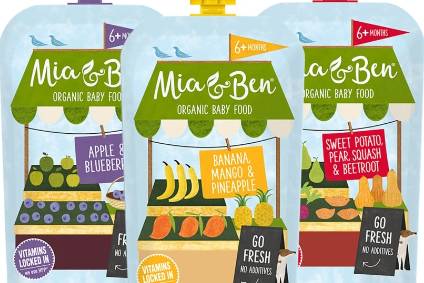 Mia & Ben, a fledgling UK baby-food firm using high-pressure processing for its pouched products, has secured investment from venture-capital fund Blue Horizon Ventures.
Michael Kleindl, co-founder and managing partner at Blue Horizon Ventures, told just-food the Zurich-based investor had acquired a "sizeable minority" of Mia & Ben, a producer of organic baby-food set up last year. Financial terms were not disclosed.
Describing Daniel Auner and Karina Gentgen, the entrepreneurs who set up Mia & Ben, as "strong founders", Kleindl said: "We believe they have a serious option to create a new category in infant nutrition. We believe what they do has superior quality compared to whatever is currently out there in the market and that's why we decided to back them."
Blue Horizon Ventures was established in 2018 to back what Kleindl called "food tech" businesses. Its investments so far have included in Clara Foods, a US firm making animal-free proteins such as an alternative to eggs white, and in LoveRaw, a UK-based vegan confectionery supplier.
"We have a very general investment theme. We are one of the belief that we will be eating differently in the future. We are strong believers of a move towards a more sustainable food system, which, for us, means no animals, so we back plant-based, we back synthetic biology and we back cultivated food and related sustainability matters to the food system – anti-plastics, the packaging issue and the food-waste issue. Those are areas where we actively look," Kleindl explained.
Mia & Ben is Blue Horizon Ventures' first investment in the market for infant foods. "There has been very little innovation in the last 20, 30, 40 years. After Hipp in Germany, nothing has happened since then and maybe Mia & Ben is the next cool thing," he added.
London-based Mia & Ben, who had not returned a request for comment at the time of writing, uses high pressure processing, or HPP, in the production of its baby food. Mia & Ben says HPP gives its chilled product an edge over shelf-stable rivals, which usually use heat in their preservation process and therefore, the company says, destroys nutrients.
Asked what Blue Horizon Ventures can contribute to Mia & Ben, Kleindl said: "Besides capital, we are very well-connected to retail and distribution in the European market, even outside. The folks on the team are pretty good marketeers, some of them have a marketing background, which for a brand like Mia & Ben is important. We have experience in international expansion, so taking them to other markets properly is where we can help. These are the relevant areas of value-add to the business."