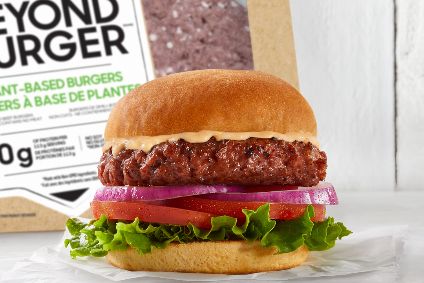 Beyond Meat, the California-based alternative-protein business, has launched a direct-to-consumer platform to complement its retail and foodservice presence.
Led by chief executive and founder Ethan Brown, the Los Angeles-headquartered firm is offering bulk packs, mixed bundles and trial packs via the D2C channel to consumers in the US.
From today (27 August), customers can buy Beyond Meat's products through the e-commerce site, which provides a two-day delivery service.
"The launch of the company's direct-to-consumer site is the latest effort in furthering the company's goal to increase accessibility to plant-based meat," it said in a statement.
A raft of global packaged food firms, as well as food industry start-ups, have entered the D2C channel during the coronavirus pandemic as an alternative means to reach out to consumers struggling to get into stores. Others, like Nestlé, the world's largest food firm, and Mars were already present in the channel before the virus emerged in China at the end of last year.
Brazilian meat business Minerva recently launched a D2C platform, along with another meat-free company, US-based Impossible Foods, joining the likes of Kraft Heinz and PepsiCo. In Europe, Symington's in the UK has entered the channel, along with Italian dairy firm Parmalat, owned by Lactalis in France.
Beyond Meat's D2C offering includes a Burgers and Beef Combo Pack featuring ten Beyond Burger patties and two packs of Beyond Beef plant-based mince at US$54.99.
Or a Brats and Beef Combo Pack containing ten Beyond Sausage and two packs of Beyond Beef for $59.99, along with a Beef Bulk Pack consisting of six packages of Beyond Beef for $71.99.
A Breakfast Sausage Variety Pack contains 22 Beyond Breakfast Sausage and 22 Spicy Beyond Breakfast Sausage for $54.99.
Consumers also have the option for a trial pack or a so-called classic, limited edition offering.
See just-food's interview with Mars: "D2C helps us build a frictionless consumer experience"
just-food analysis: How will Covid-19 shape direct-to-consumer platforms?