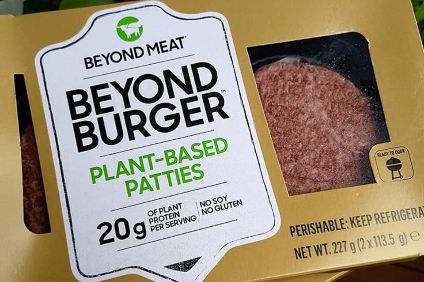 US plant-based protein company Beyond Meat is about to make its debut on Chinese supermarket shelves.
The meat-free burger, sausage and mince products manufacturer will sell its patties in mainland China through local e-commerce giant Alibaba's Freshippo supermarkets.
Sales of its Beyond Burger will begin this weekend at 50 stores in Shanghai, with plans to expand to 48 more stores in Beijing and Hangzhou in September.
It will not be Beyond Meat's first foray into the Chinese market. Early last month, Yum China Holdings said it would be selling the US company's burgers for a limited time at some of its KFC, Pizza Hut and Taco Bell locations. And it signed a deal in April with Starbucks for its meat-free mince to be used in products sold through 3,300 of the the coffee chain giant's China outlets.
Ethan Brown, founder and CEO of Beyond Meat, said: "We know that retail will be a critical part of our success in China, and we're pleased to mark this early milestone within a few months of our market entry. Following recent foodservice announcements with Starbucks, KFC, Pizza Hut and Taco Bell in China, as well as our distribution partnership with Sinodis, expanding into retail is the natural next step in building our market presence.
"We are proud to partner with Alibaba's Freshippo, a dominant player in the retail space, to introduce our hallmark Beyond Burger to home cooks throughout China."
Jiayu Zhao, senior director and head of merchandising of Freshippo said: "Beyond Meat and Freshippo share a vision of bringing innovative shopping experiences and products to our customers. Freshippo's new retail technology will enable plant-based meat to grow in China by meeting the modern Chinese consumer's expectations whether they are shopping online or offline.
"We have seen a growing interest in plant-based meat among our shoppers and look forward to offering more Beyond Meat products in the future."
In Freshippo locations around Shanghai, the Beyond Burger will be located in the frozen meat section.
just-food interview: "This industry is so nascent" – Dao Foods investor Tao Zhang on taking plant-based meat mainstream in China