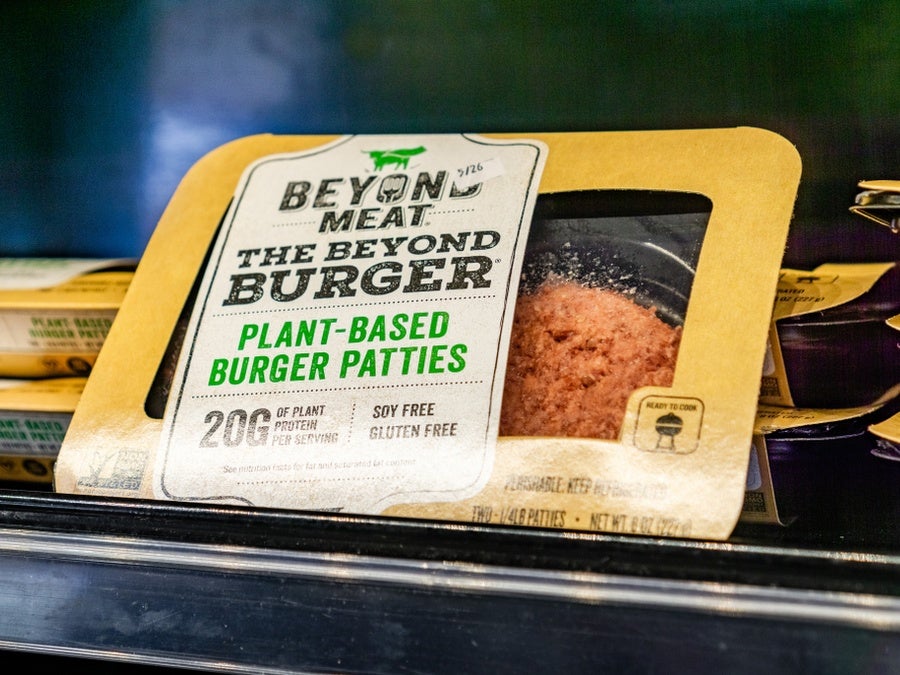 US plant-based protein business Beyond Meat has suggested its cost-cutting programme is starting to have an impact.
Last October, the company set out plans to reduce costs, moves that included cutting hundreds of jobs, in a bid to improve its profitability amid pressure on sales.
Speaking to analysts after the release of its first-quarter results yesterday (10 May), company founder and CEO Ethan Brown said: "Though we have much heavy lifting left to do, we are seeing tangible progress."
Alongside the results, Beyond Meat revealed plans to raise as much as $200m in an equity offering. The proceeds will be used for "general corporate and working capital purposes", it said.
Net revenues for the period were $92.2m, 15% down year-on-year, but an adjusted EBITDA loss of $45.8m was an improvement on the $78.9m loss the California-based business booked a year previously.
Brown said: "Late last year, we articulated a strategy to drive Beyond Meat to cash-flow positive operations and sustainable long-term growth. We are pleased to report strong progress for the second full quarter of this strategy. Cash use and net loss are substantially improved on a sequential and year-over-year basis, gross margin is up on a sequential and year-over-year basis and we delivered net revenues consistent with guidance. We remain focused on our strategy and committed to pursuing our vision of transforming the $1.4trn global meat industry."
However, the company admitted "most markets and channels were negatively impacted by continued softness in demand in the plant-based meat category".
In February, Beyond Meat revealed it had burnt through more than $400m in cash in 2022 as it sought to revive volumes with price reductions.
Yesterday, it revealed it had experienced a year-on-year 7.3% decrease in volumes of products sold but Brown told analysts it intended to pursue its goals of reducing the price of its products and stripping costs out of the business.
"We will continue to apply intense focus on margin restoration through cost reduction versus raising prices as we pursue our long-standing price parity target with animal protein," he said.
"We continue to evaluate strategic pricing actions to further test elasticities as we seek to narrow the gap between our products and animal protein."
On taking costs out of the business, Brown said: "The company is focused on the deployment of lean management structure and process to drive cost out of our operations. We continue to rationalise our production network.
"We are bringing the overall cost of business operations down, taking out approximately $34m for a total opex [operational expenditure] reduction of 35% year over year. Alongside this reduction in operating expenses, our team continues to focus on sweating existing assets, reducing our need for new investment."
Brown also revealed the company is launching the Better with Beyond marketing programme "that highlights the great taste and health benefits of our products while celebrating our clean and sustainable process".
He added: "This messaging continues to be a critical point of engagement with the consumer as there remains confusion around what we make our plant-based products from and how we make them. Setting the record straight is a key part of getting consumers back to the category."
CFO Lubi Katua told analysts Beyond Meat continues to expect net revenues to be in the range of $375m to $415m in 2023, representing a decrease of approximately 10% to 1% compared to 2022.
He said the company recognises "that there is still much work to do as our absolute top-line results and category trends continue to reflect demand weakness amid broader macro-economic headwinds".
Bernstein analyst Alexia Howard said the results had come through "slightly better than expected" but cautioned that the business "was not out of the woods yet".