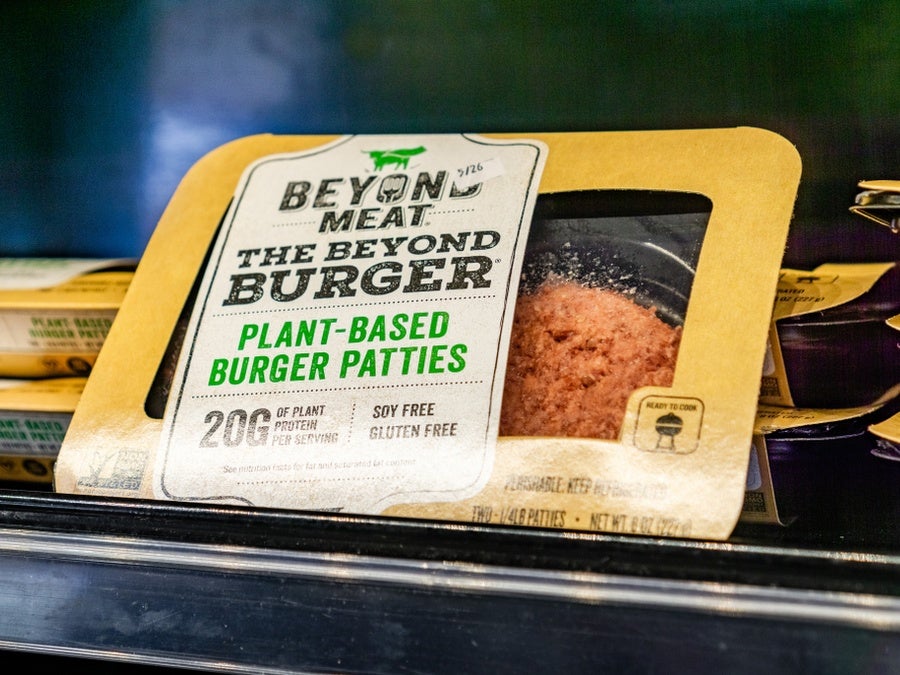 Beyond Meat burnt through more than US$400m in cash last year as the alternative-protein maker seeks to revive volumes with price reductions.
Revealing negative prints for revenue, gross margin, EBITDA and net income yesterday (22 February), the Beyond Burger and Beyond Steak brand owner is shifting its business model from top-line growth to one that is cash-flow positive and centred on "sustainable longer-term growth".
Volumes fell 16.9% in the fourth quarter alone, despite price cuts to encourage repeat buying as Beyond Meat works through lowering inventory levels. Revenue in the year to 31 December was down 9.8% at $418.9m, with sales declining across both retail and foodservice in the US and overseas.
Cash and cash equivalents stood at $322.5m last year, compared to $733.3m in 2021, with debt remaining stable at $1.1bn. Net cash used in Beyond Meat's operations was $320.2m versus $301.4m in the prior 12 months.
President and CEO Ethan Brown said: "We are making solid progress in our transition to a sustainable growth model, one that emphasises the achievement of cash-flow positive operations within the second half of 2023."
That involves three so-called pillars: margin recovery and "operating expense reduction", lowering inventory levels, and "greater emphasis on near-term retail and foodservice growth".
As growth in plant-based proteins continues to tail off in the US, Beyond Meat's CFO Lubi Kutua provided some insight on during the analyst call.
"Our top-line results primarily continue to reflect soft demand in the plant-based meat category, particularly within our core subcategory of refrigerated. We believe persistently high inflation, a slowing economy, increased competition and trading down behaviour by consumers among proteins are all negatively impacting growth for our category and our brand, but we do believe this is transitory."
Jerky drag
Beyond Meat's animal-free jerky business – launched in 2022 in collaboration with PepsiCo – has been a drag on margins and the company is reacting.
Gross profit turned to a loss of $23.7m last year ($117.3m profit in 2021) and the margin turned to a negative 5.7% from a positive 25.2%.
Brown said in his prepared remarks: "In support of margin restoration, we are restructuring certain operating activities related to Beyond Meat Jerky intended to drive further gains in the margin profile of this product line. Though we can't get into specifics today, we look forward to providing further information around these efforts in the near future."
Kutua added that Beyond Meat realised a benefit of $3.6m last year to "restructure certain contracts and operating activities" with regards to the jerky business.
Pressed during the Q&A on the extent of the drag from jerky, Brown countered: "It was not insignificant from an impact on the business and we've taken a lot of activity.
"I was very involved in this toward the second half of this year to restructure the agreements that we have on production and distribution and things of that nature to make sure that as we move forward, we have more favourable economics around margin. While I don't think it's going to be transformative in terms of the entire business, you are going to see better economics on the jerky business."
Beyond Meat on price parity
Inventories were cut by $48m, or by 17% last year. Brown said Beyond Meat has "designed certain time-bound trials and pricing programmes to drive stronger velocities, and we are encouraged by early results" towards price parity with animal proteins.
He added: "It seems reasonable that consumers may retreat from protein that can be 2x the price of the animal-based equivalent during periods of intense inflation and reduced buying power, and that a reduction in price given this dynamic would spur increased consumption."
Brown said in response to a question posed by an analyst that the "quickest way to drive through this inventory is just to offer more competitive pricing".
Kutua chipped in on the estimate put forward by another analyst that Beyond Meat's cash-burn might amount to around $175m in 2023.
"The estimate that you just mentioned over there sounds pretty high," the CFO responded. "I think we will be substantially below that for the full year. But we will be a net consumer of cash for the full year, even though we do have this objective to be cash-flow positive within the second half of next year."
To cut costs, Beyond Meat reduced the number of co-manufacturers last year to three from eight and "restructured certain agreements". Brown said the company plans to "continue this optimisation work with our co-manufacturing network, as well as in-sourcing more of our volume as we progress".
US retail sales fell 3.5% last year to $234.7m and were down 9.4% in the out-of-home channel at $69.3m. Internationally they dropped 25.3% and 14.8%, respectively, to $60.9m and $53.9m.
Elsewhere, adjusted EBITDA losses widened to $278m from $112.8m, while losses on the bottom line ballooned to 366.1m from $182.1m.
The revenue guide for 2023 was pitched at $375m to $415m, lower than last year. Gross margin was projected in the low double-digit area.
"Macroeconomic issues" such as inflation and rising interest rates, the chance of a US recession, increased competition, supply chains and labour, and trailing Covid impacts were cited as the challenges last year. And "demand in the plant-based meat category".
Brown said: "This category will win over time on three things. It will win around taste, it will win around a proper understanding of the health benefits that our products provide, [and] it will win on price."
From the Just Food archive: US snacks spotlight: will plant-based jerky ever be more than niche?