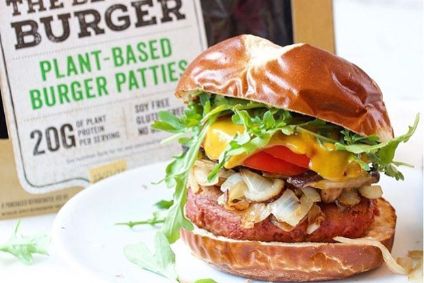 US plant-based burger and sausage manufacturer Beyond Meat has raised its guidance for 2019 after reporting strong third-quarter results.
The California business – which makes the Beyond Burger – now expects to see net revenues in the range of US$265m to $275m, updated from its prior expectation of more than $240m.
In the three months to 28 September the business recorded net revenues of $92m, an increase of 250% year-on-year, while gross profit was $32.8m, compared to $5m. The former figure exceeded analysts' expectations.
Net income was $4.1m, compared to a net loss of $9.3m in the equivalent period in 2018, while adjusted EBITDA was $11m compared to a loss of $5.7m.
For 2019, Beyond Meat has upped its guidance for adjusted EBITDA to approximately $20m, up from its prior expectation of being adjusted EBITDA positive for the year.
Ethan Brown, Beyond Meat's president and CEO, said: "We are very pleased with our third-quarter results, which reflect continued momentum across our business and mark an important milestone as we achieved our first ever quarter of net income.
"We remain focused on expanding our distribution footprint, both domestically and abroad, building our brand, introducing new innovative products into the marketplace, and bolstering our infrastructure and internal capabilities to fuel our future growth."
Earlier this month, Beyond meat, which has inked foodservice contracts with fast food giants including McDonald's and KFC – brought in experienced Coca-Cola executive Stuart Kronauge as its chief marketing officer.
This followed the appointment a month earlier of former Amazon executive Sanjay Shah as chief operating officer.