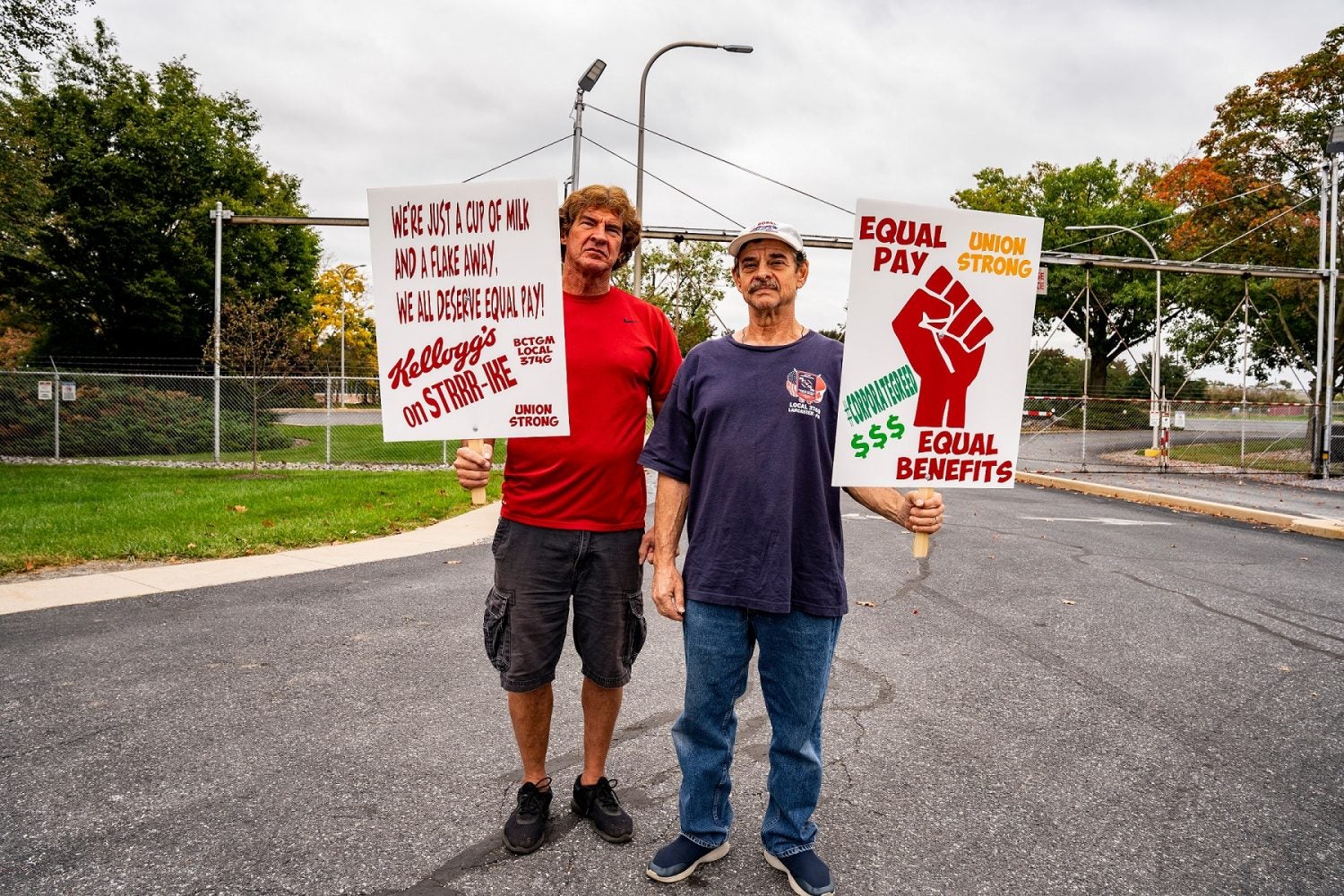 President Biden has hit out at Kellogg's plan to hire replacements for striking workers at four US cereal plants.
The industrial action by 1,400 employees at facilities in Nebraska, Michigan, Pennsylvania and Tennessee has been going on for two months.
Last week (7 December), workers voted against the sixth proposal put forward by Kellogg, including a 3% pay increase for so-called legacy workers.
In response, the Frosties and Special K maker argued "the prolonged work stoppage has left us no choice but to hire permanent replacement employees in positions vacated by striking workers".
On Friday, the White House issued a statement from Biden in which he said he was "deeply troubled" by the plans.
"Permanently replacing striking workers is an existential attack on the union and its members' jobs and livelihoods. I have long opposed permanent striker replacements and I strongly support legislation that would ban that practice," Biden said.
"Unions built the middle class of this country. My unyielding support for unions includes support for collective bargaining, and I will aggressively defend both.
"I urge employers and unions to commit fully to the challenging task of working out their differences at the bargaining table in a manner that fairly advances both parties' interests."
Kellogg's new five-year labour contract proposals included what the company said was "an accelerated, defined path to legacy wages and benefits for transitional employees, and wage increases and enhanced benefits for all".
The 3% pay increase was accompanied by a pledge for future cost-of-living adjustments (COLA), while so-called transitional employees were offered "substantial increases" depending on the number of years of service.
Employees who had worked at Kellogg for four years or more would "graduate to legacy wages and benefits", the Fruit Loops owner said last week.
Reporting results for the third quarter early in November, Kellogg chairman and CEO Steve Cahillane pointed to a difficult operating environment in the months ahead.
"Business conditions do not get any easier in the fourth quarter, especially with the added challenge of a current labour disruption," the CEO said as he made note of the current trading conditions characterised by "economy-wide bottlenecks and shortages and high-cost inflation".
Consequently, Kellogg said its full-year adjusted profit growth could be at the low end of its range of 1% to 2%.
Just Food has approached Kellogg for a response to Biden's statement. The company said: "We are ready, willing and able to negotiate with the union; we have been from the start and we continue to be. We agree that this needs to be solved at the bargaining table. Our objective has been – and continues to be – to reach a fair agreement for our people.
"We have made every effort to reach a fair agreement, including making six comprehensive offers to the union throughout negotiations, all of which have included wage and benefits increases for every employee on top of an industry-leading compensation package. Most employees working under this Master Contract enjoy a CPG industry-leading level of pay and benefits; the average 2020 earnings for the majority of hourly RTEC employees was $120,000, nearly $36/hour straight time for our legacy employees.
"The tentative agreement was a fully negotiated deal between Kellogg and the union, and contained no concessions or takeaways – only increases in wages and benefits. We are very disappointed that it was ultimately rejected. We have an obligation to our customers and consumers to continue to provide the cereals that they know and love – as well as to the thousands of people we employ."