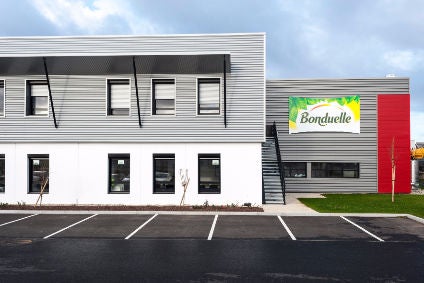 France-based vegetable products supplier Bonduelle has reported a 2% rise in its underlying turnover for the first nine months of its financial year, helped by a "sharp upturn" in its business in eastern Europe.
The company booked consolidated turnover of EUR1.55bn (US$1.69bn) for the period to the end of March, a result that equated to a 4.7% increase on a reported basis, including the impact of exchange rates and the early contribution from US produce group Ready Pac Foods, which was acquired in March.
On a like-for-like basis, stripping out exchange rates and the impact of M&A, Bonduelle's turnover rose 2%.
Bonduelle's business in eastern Europe takes in operations in Russia and the CIS countries. The company said Russia had seen a "return to a dynamic GDP growth in Russia", which had led to the value of the rouble rising. Russia still has an embargo on a range of food imports from the EU but Bonduelle has local production, allowing it to continue to do business in the country.
The eastern European operations are included in Bonduelle's "Non-Europe" division, which saw like-for-like turnover rise 6%. In Europe, like-for-like turnover dipped 0.2%.
The company's third-quarter turnover rose 11.7% to EUR526.8m, boosted by a 32.7% jump outside Europe, in part supported by the Ready Pac deal. Like-for-like turnover increased 2.2%, with underlying growth outside Europe up 4.5% and sales in the region inching up 0.9%.
Bonduelle said the growth it saw in Europe in the third quarter was "an all the more remarkable performance" after poor weather hit the sales of its fresh products. Sales of canned food drove the growth Bonduelle saw in Europe.
The company still expects to see its annual turnover rise by 2-3%. It has also forecast "the stability of its operating profitability on a like-for-like basis, excluding the Ready Pac Foods deal.
More to follow