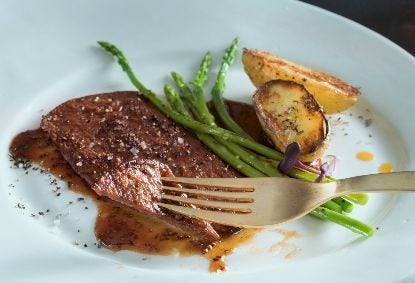 Brazil meat giant BRF and seafood major Thai Union Group have invested in Israel cell-based meat firm Aleph Farms as part of a US$105m Series B funding round.
Other participants in the round, which was led by private-equity firm L Catterton, include South Korean food business CJ CheilJedang and Abu Dhabi government-backed investment platform DisruptAD. Existing investors including US agri-food giant Cargill and Israel food and beverage manufacturer Strauss Group also took part.
Aleph Farm's total funding to date now tops $118m.
BRF, which contributed $2.5m to the funding round, is building on ties established with Aleph Farms in March. The meatpacker announced then it had signed a memorandum of understanding with the Israeli firm which it hoped would lead to it marketing the cell-based company's products in Brazil.
"BRF is ready and charged to play a leading role in this food revolution and be an active participant in one the greatest industry transformations of this generation," Lorival Luz, the CEO of BRF, said in a statement at the time.
Today (7 July), BRF said the investment in Aleph Farms is in line with its 2030 Vision plan presented in December in which one of the growth avenues mentioned is the production of meat substitutes.
Aleph Farms, which grows steaks from animals cells, said it will use the funds to scale-up manufacturing of its lab-created meat products and grow operations internationally ahead of initial market launch in 2022.
The company said it is working with regulatory agencies on its plans for market entry.
Following DisruptAD's investment, Aleph Farms said it will evaluate the establishment of a manufacturing facility in Abu Dhabi to supply cultivated meat products across the United Arab Emirates and the broader region.
Didier Toubia, co-founder and CEO of Aleph Farms, said: "This additional capital from top-tier partners with unparalleled experience and expertise brings us significantly closer to our vision of providing secure and unconditional access to high-quality nutrition to anyone, anytime, anywhere.
"We see our investors as partners for building this new category of meat and it was critical to us that they share our strong commitment to improving the sustainability of our global food systems."
Michael Farello, a managing partner at L Catterton's Growth Fund, said: "With cultivated whole-muscle cut steaks, an optimised platform for cost parity at scale, and a global partnership network with the world's largest meat producers, Aleph Farms has differentiated itself as the leading cultivated meat company poised to go to market."
Aleph Farms was founded in 2017 by Toubia, The Kitchen Hub of the Strauss Group and Professor Shulamit Levenberg from the Biomedical Engineering Faculty at the Technion – Israel Institute of Technology.