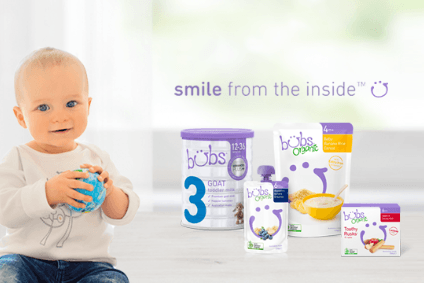 Infant formula and baby food maker Bubs Australia is expanding its presence in China through a AUD17m (US$13m) "long-term" distribution agreement with New Times Asia that will see its annual revenues double.
Australia-listed Bubs said it expects sales of its namesake products and those of the CaprilLac brand to rise to AUD24M in fiscal year 2020 and AUD37m the following year under a "minimum sales commitment".
In a statement filed with the Australian Securities Exchange today (6 June), Bubs described New Times Asia as a service provider specialising in e-commerce sales and fulfilment in China for "major and second tier e-commerce platforms" and which already represents global brands, including numerous imported infant formula and milk powder brands.
Under the agreement, Bubs and CapriLac products will be supplied to New Times Asia and sold on up to 20 e-commerce platforms, including those that have already partnered with the firm: JD.com, Kaola.com VIP.com, and RED, as well as new vertical platforms, such as Suning (Red Baby), Jumei, Mia, BeiBei, Baby Tree (Meitun) and MamaGo.
China is increasingly becoming an important market for infant formula makers in Australia.
Last week, Jatenergy announced it had secured a deal to open a retail outlet in China dedicated to children's products – JAT Maternity and Children – to supply its own products and those from Australian and other international producers.
For Bubs, the company launched its goat's milk infant formula and a range of baby organic cereals through Chinese retailer Chemist Warehouse last October. And a year ago, it announced an "exclusive" distribution deal with Brilite Nutritionals Co. to try to grow sales in the Asian country.
Commenting on the latest deal, Bub's founder and managing director Kristy Carr said: "The agreement with New Times Asia is a major step forward in our China expansion strategy, and shows the investment we have been making and continue to make in building our China presence is bearing fruit.
"Based on our annualised run rate of Bubs and CapriLac combined trading, the committed FY19 off-take by New Times Asia will be at least double our total company net sales revenue. We will now be well positioned to reach and suitably manage many new e-commerce channels in China."
Carr added that while New Times Asia has committed to purchasing minimum volumes of Bubs and CapriLac products, Bubs "maintains flexibility" should the firm not meet agreed performance measures.
Michael Deng, the founder and CEO of New Times Asia, said: "Bubs and CapriLac are very strong and trusted Australian brands. We are confident we can quickly build brand awareness and consumer demand for Bubs in China given the trend for premiumisation, as reflected in the rapid growth of specialised formula, goat milk and organics."