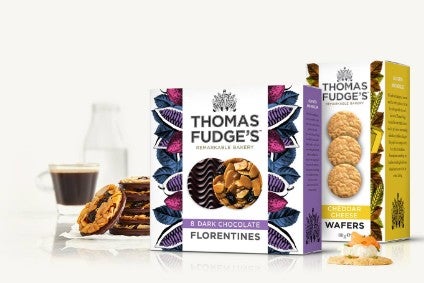 Burton's Biscuit Co., the firm behind brands including Maryland Cookies and Jammie Dodgers, has snapped up fellow UK biscuit maker Thomas Fudge's.
In a statement issued today (6 February), Burton's Biscuit Co. described Dorset-based Thomas Fudge's as a "premium sweet and savoury biscuit manufacturer" and said the premium segment of the UK biscuit category is "one of the fastest-growing, as growing numbers of consumers are seeking indulgence delivered by provenance, high-quality ingredients and engaging textures".
Burton's Biscuit Co., owned by Canada-based fund Ontario Teachers' Pension Plan, has acquired Thomas Fudge's from UK private-equity firm Livingbridge, which first invested in the business in 2016. Financial details were not disclosed.
Nick Field, Burton's Biscuit Co.'s CEO, said: "Thomas Fudge's is a great business with a fantastic portfolio of premium products and baking expertise handed down through generations. The bakery provides a hugely complementary production capability to Burton's own bakeries, extending into the more premium and artisanal end of the category with their branded, retailer brand and Marmite products baked under licence."
Livingbridge took part in a management buy-out of Thomas Fudge's in 2016. The executives who also invested in the biscuit maker left the business a year later, selling their shares to Livingbridge.
According to GlobalData, the value of the UK sweet biscuits category was US$15.87bn in 2017, down 3.22% on a year earlier. It estimates the category would have been worth $16.92bn in 2018, 4.34% higher than 2017.
GlobalData researchers say the value of the UK savoury biscuits category was $729m, down 2.54% on 2016. They estimate the category will have grown 5.05% in 2018 to $765m.