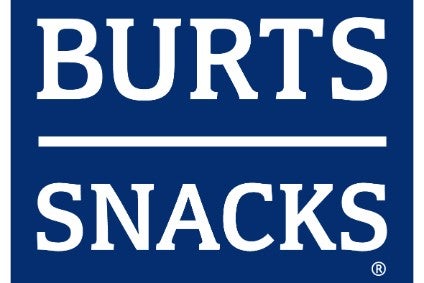 Burts Chips, the UK-based independent crisp company, is changing its name to better reflect the nature of the business after acquiring a local popcorn snack brand.
The company, located in Plymouth in south-west England, will now become Burts Snacks as it seeks to become the UK's "leading producer of premium snacking products". Founded in 1997, Burts bought Savoury & Sweet in 2017, and with it, acquired a second production facility in the city of Leicester.
Burts said in a statement it aims to double this year's projected turnover by 2022 to around GBP100m (US$125.4m) having invested GBP7m across its two sites in Plymouth and Leicester and taken on an extra 64 workers since the acquisition. It now employs 306 people.
Following licensing partnerships with the beverage brands Guinness and Jim Beam, along with chilli sauce brand Levi Roots, its line up now includes: Burts Potato Chips, Guinness Crisps, Jim Beam Crisps, Levi Roots Crisps, Lentil Waves and Popcorn & Me.
David Nairn, the firm's managing director, said: "At a time when other UK snack manufacturers are consolidating into larger, multinational portfolios, at Burts Snacks, we're bucking the trend by staying true to our core values by remaining independent and investing in our people, products and facilities to ensure we maintain our status as the leading specialist in premium brand and private-label snacks."
US-based food and beverage giant PepsiCo snapped up UK crisp brand Pipers earlier this year. In 2018, Germany-based Intersnack Group snapped up Tyrrells after the UK crisp maker had been owned – briefly – by Hershey and Amplify Snack Brands.
Meanwhile, Burts said it is targeting 25% sales growth this year and hopes to reach GBP54.9m, with GBP25m already in the bag during the first half.