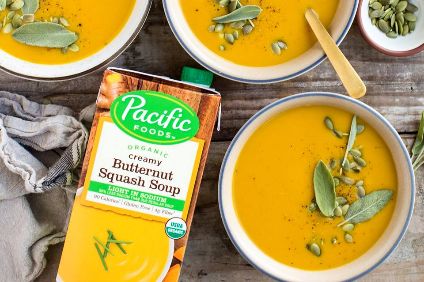 US food giant Campbell Soup Co. will proceed with its much-anticipated annual meeting later this month after legal action taken by an activist investor that could have delayed the event was rejected by a court.
The litigation was the latest move in a long-running battle between the embattled soup-to-snacks business and Third Point, the hedge fund run by activist investor Daniel Loeb, which wants to change the way the company is run, in part by replacing the Campbell board with its own candidates at the annual meeting scheduled for 29 November.
The descendants of John T. Dorrance, a chemist who invented condensed soup, own more than 40% of Campbell. One of those descendants, George Strawbridge, has, with Third Point, filed a lawsuit at a court in Campbell's home town of Camden, New Jersey, last week, arguing the Campbell board "breached their fiduciary duties to Campbell's stockholders by withholding material information critical to stockholders assessing how to vote at the company's annual meeting".
Third Point asked the New Jersey state court to stop Campbell from holding the shareholder meeting until the company corrects information on the board, including on the business interests of director Bennett Dorrance, one of three heirs of John T. Dorrance who sit on the company's board.
But a statement issued by Campbell on Friday (2 November), revealed the lawsuit has failed to delay the meeting.
The statement said: "Third Point's motion for expedited discovery and for the scheduling of a preliminary injunction hearing was denied. The company's annual meeting will proceed as planned on Nov. 29, 2018."
However, when contacted by just-food, a Campbell spokesman said that the lawsuit had not been "entirely dismissed".
According to the UK's Financial Times newspaper, Third Point can still proceed with the discovery process. That could include a greater number of requests for documents and depositions, it said.
In a statement sent to just-food, Third point said: "We are pleased that the judge made clear that Third Point's case to determine whether Campbell's board has misled shareholders will proceed.
"Although expedited discovery was not granted, shareholders deserve to know whether the current board has acted truthfully and has put interests of shareholders ahead of those of insiders. We are proceeding with broad discovery, depositions, and document requests related to the strategic review process, executive compensation practices, and Bennett Dorrance's outstanding loans via his pledged shares."
The legal action is the latest twist in a fractious battle over the future direction of Campbell, which saw Third Point join its shareholder roster this summer and criticise the business' performance.
A review of Campbell's operations, carried out by its existing board this summer, failed to win over Third Point, which is reported to favour a sale of the business.
At its annual shareholder meeting, the company's shareholders will vote, among other things, on the make-up of the manufacturer's board.
Third Point owns 6.98% of Campbell whereas descendants of the company's former owner, who have stated they are supportive of Campbell's plans, hold around 41% of its shares.