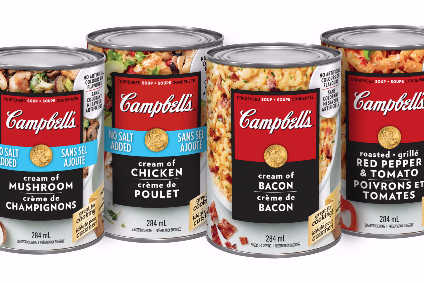 Campbell Soup Co. issued a critique of a 100-day plan outlined by an activist investor pressing for a change of leadership and business strategy as the battle between the two parties continues to rage.
New York-based Third Point, which owns 7% of the soup maker's shares, presented a 21-page turnaround plan yesterday (30 October) that included a proposal to evaluate Campbell's strategic review (revealed on 30 August) and the proposed divestiture of its international and fresh foods operations announced under the leadership of interim chief executive Keith McLoughin.

Last week, Third Point issued a lawsuit against Campbell believing the firm is misleading shareholders over the qualities of its directors and its recently-announced business review. The activist investor has previously put forward candidates to replace the company's board ahead of a shareholder meeting on 29 November, and is also reportedly pressing for a sale of the business.
And now, in its 100-day plan, Third Point said it would look to recruit a "world-class" chief executive and develop a new internal-strategy and operating plan, with a goal to "listen to key stakeholders and learn" and "re-energise [Campbell's] culture around shared values".
Campbell responded yesterday by claiming Third Point's plan is "riddled with inaccuracies, half-truths, simple generalisations, and vague recommendations, all of which demonstrate their limited understanding of food industry dynamics and of Campbell's business".
In a statement criticising the investor's new proposals, Campbell spoke at length: "Third Point's campaign to seize control of the Board can be summed up as follows: 'Vote for us and we'll think of something.'
"In the meantime, they have simply and effectively copied and pasted the actual plan outlined by Campbell on August 30th into the Third Point PowerPoint template. They've endorsed our divestitures and our purchase of Snyder's-Lance to participate in snacking category growth. Their path to a $70 per share target is simply our proposed cost savings, our proposed synergies, and time. Additionally, Third Point explicitly debunks their previous statement that the 'only justifiable outcome' is a sale of the company."
Third Point, which is led by Daniel Loeb, also said in its presentation yesterday it would assess Campbell's senior leadership, including whether McLoughlin should remain interim CEO.
Other key proposals listed in the lengthy document included: "Perform [an] extensive analysis of internal documents and data to review the business by category and by brand; evaluate proposed asset divestitures (fresh food, international snacks) and identify additional opportunities to better align [the] portfolio around key categories; create [an] internal strategy task force comprised of management and board members; and assess [the] financial impact of potential revenue growth and cost-savings opportunities."