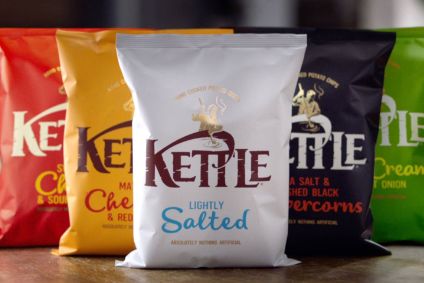 Campbell Soup Co., the US giant in the middle of selling assets to focus on fewer businesses, is reportedly weighing up whether to offload its Kettle Chips unit.
UK-based news agency The Press Association on Sunday reported Campbell had hired Barclays to look into a possible sale of Kettle Chips, which the soup maker acquired when it bought US-based snacks maker Snyder's-Lance in 2017.
Kettle Chips has its US office in Oregon and has a headquarters for its operations covering Europe and the Middle East in the UK city of Norwich.
Approached for comment from just-food, a spokesperson for Campbell said: "We don't comment on rumour or speculation."
In August, Campbell, facing pressure on sales and profits, announced it would sell its international division – which does not cover Kettle Chips but includes Australia-based snacks business and Arnott's and Danish unit Kelsen – as well as its US fresh-food business as part of a review of its operations.
Throughout this year, Campbell has sold off its US fresh-food assets piecemeal, most recently Bolthouse Farms to US-based private-equity firm Butterfly Equity. In February, Campbell signed an agreement to sell its Garden Fresh Gourmet to an affiliate of Fountain of Health USA for an undisclosed sum. The week before, Campbell announced the sale of a refrigerated soup plant to an affiliate of local investment firm Joshua Green Corp. (JGC).
Last month, CNBC reported Campbell's talks with Mondelez International on a deal for its international assets, which also take in operations in Indonesia, Malaysia, Hong Kong and Japan, had stalled.