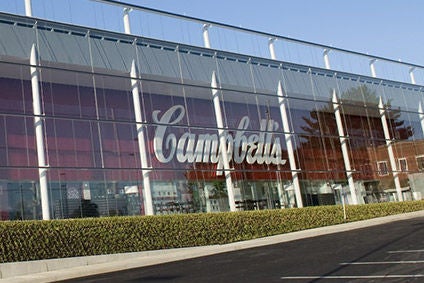 US food major Campbell Soup Co. has cut its forecast for a key annual earnings metric.
The soup, sauces and snacks maker believes its "adjusted" EBIT will fall 4-5%, against its previous estimate of earnings by that metric coming in, at worst, down 1% and, at best, up 1%.
Campbell's new guidance comes as the company today (9 June) released its third-quarter results, which included an 11% drop in sales to US$1.98bn.
The Prego sauces owner said the decline was party due to the business lapping last year's Covid-sparked sales surge.
Campbell also pointed to the impact of the sale of Plum baby food brand and snacks business last month.
"In the fourth quarter, the company expects continued margin pressure related to its transition out of the Covid-19 environment, and more pronounced inflation while pricing actions take hold in the beginning of fiscal 2022," it said.
Reflecting on Campbell's third-quarter sales decline, CEO Mark Clouse said: "While we recognised the third quarter would be a challenging net sales comparison to the demand surge at the onset of the Covid-19 pandemic a year ago, we faced additional headwinds.
"Our results were impacted by a rising inflationary environment, short-term increases in supply chain costs and some executional pressures as we continued to advance our transformation agenda, primarily in our snacks division.
"We are confident that these are all addressable and we are taking appropriate actions, including putting pricing in place for the next fiscal year.
"Our confidence is further strengthened by the underlying health of our brands. Nearly three-quarters of our portfolio gained or held share in the quarter, with most of our core categories having grown at higher rates than pre-pandemic levels."
Campbell's third-quarter adjusted EBIT dropped 27% to $283m. On a reported basis, EBIT was $272m, versus $273m a year ago.
Net earnings attributable to Campbell fell 5% to $160m.
Over the first nine months of Campbell's fiscal year, sales stood at $6.6bn, compared to $6.58bn a year earlier. EBIT was up 21% at $1.13bn. Adjusted EBIT of $1.14bn was "comparable" to the year before.
Nine-month net earnings attributable to Campbell were $714m, down 54% on a year earlier.
Shares in Campbell were down 5.5% at $46.42 at 09:59 ET today.