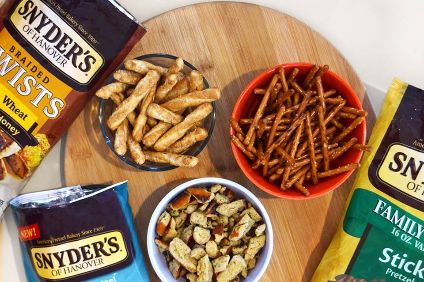 Campbell Soup Co. has completed its sixth acquisition in five years after agreeing to buy US snacks maker Snyder's-Lance for US$50 a share in an all-cash transaction.
A joint statement said today (18 December) the deal will create a combined snacking category estimated at $4.7bn in net sales on a pro-forma basis. Campbell's annual sales are expected to exceed $10bn, along with about $170m in "cost synergies" to be realised in fiscal 2022.
The agreement price of $50 a share represented a 27% premium over the last close of trading in Snyder's stock on 13 December, before media reports started to circulate about a potential deal. Both companies' boards of directors approved the acquisition, although clearance is still needed from Snyder's shareholders and the regulatory authorities.
Soups and biscuits maker Campbell will fund the transaction through $6.2bn in short- and long-term debt. "Pro-forma leverage is expected to be 4.8x at closing, and the company is committed to deleveraging to approximately 3x by fiscal 2022," according to the statement.
Campbell's latest acquisition will expand its presence in the US snacking market, which the statement put at $89bn and as growing at a compound annual growth rate of almost 3%.
Today's announcement builds on a deal completed last week for Campbell to acquire US natural produce company Pacific Foods for $700m. In 2015, Campbell bought fresh salsa and hummus maker Garden Fresh Gourmet after snapping up organic baby food firm Plum, and biscuit company Kelsen in 2013. Those deals followed on the heels of Bolthouse Farms the previous year.
Snyder's products include pretzels, crackers, kettle chips and deli snacks with brands such as Snyder's of Hanover and Kettle. The company, which will become part of Campbell's Global Biscuits and Snacks division, reported $2.2bn in net sales for the 12 months ended on 30 September.
Denise Morrison, Campbell's president and chief executive, said: "The acquisition of Snyder's-Lance will accelerate Campbell's strategy and is in line with our purpose, 'real food that matters for life's moments.' It will provide our consumers with an even greater variety of better-for-you snacks."
She added: "The combination of Snyder's-Lance brands with Pepperidge Farm, Arnott's and Kelsen will create a diversified snacking leader, drive sales growth and create value for shareholders. This acquisition will dramatically transform Campbell, shifting our centre of gravity and further diversifying our portfolio into the faster-growing snacking category."
Snyder's profits turned to a loss in the first nine months of the current fiscal year, but the company said it was still on target to achieve total annual sales of $2.2bn to $2.26bn. It booked revenue from continuing operations of $2.1bn in fiscal 2016, an increase of 27%, while adjusted EBITDA climbed to $284m from $191m.
After issuing a profit warning in April, the US snacking company said management was reviewing operations to "significantly improve" financial performance, while it had also embarked upon a six-point "transformation" programme to boost operating margins and value to shareholders by 2020.
It employs 6,000 people and operates 13 manufacturing centres in the US and the UK. Still, 250 workers lost their jobs earlier this year in what was described as a "broad-based performance transformation plan, intended to substantially streamline processes and structure, drive out costs and complexity, and enhance long-term shareholder value".
Brian Driscoll, Snyder's president and chief executive, said today: "Following a thorough review process of strategic options, we believe this transaction maximizes value for our shareholders through an immediate and certain cash premium. The transaction also unlocks the value of our portfolio, reflecting the progress we have made planning and executing our transformation."