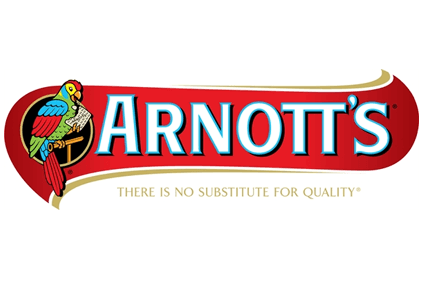 Campbell Soup Co. is reportedly mulling the sale of assets including Australian biscuits brand Arnott's and US fresh-food business Bolthouse Farms as part of the US giant's review of its operations after four years of falling revenues.
CNBC said today (17 August) Campbell had hired Goldman Sachs to look at whether the manufacturer should offload parts of its business.
Campbell announced the review on 18 May, the same day it announced the departure of president and CEO Denise Morrison, third-quarter losses before interest and taxes of US$475m and a profit warning.
Speaking to analysts after news of the review was unveiled Campbell director Keith McLoughlin – who had been named interim CEO – said: "Everything is on the table. There are no sacred cows."
Still without a permanent CEO, Campbell plans to announce the results of the review – alongside its annual financial results – on 30 August.
Since the review was started, Campbell has reportedly come under pressure from activist investor Daniel Loeb, who has taken a stake in the business and urged for it to be sold.
Loeb, who runs the Third Point hedge fund, has joined forces with fellow investor George Strawbridge – a Campbell family member and board director – to try and force the move. Together Third Point and Strawbridge own 8.42% of Campbell's shares while other Campbell family members have a stake of about 41% in the company.
Earlier this month, US newspaper The New York Post claimed Kraft Heinz had looked at Campbell's financials and held exploratory discussions about a possible acquisition of the Pepperidge Farm snacks and Plum baby-food owner.
Kraft Heinz has not commented publicly on the reports claiming it is eyeing Campbell but, on the same day as the last New York Post report was published, Bernardo Hees, the ketchup giant's CEO, said the company does not want to strike deals that would make the company "happy for a quarter" but then regretful months later.
Campbell acquired Bolthouse Farms for $1.55bn in 2012 but the business has struggled amid pressure on costs and a product recall two years ago.
Bolthouse Farms was Campbell's largest acquisition until last December when the company snapped up US snacks business Snyder's-Lance for $4.87bn, a deal that pushed up debts.
In response to today's CNBC report, Campbell sent just-food a statement, which read: "The board is conducting a comprehensive strategic and operational review of the business to examine all potential paths forward and will announce its decision on 30 August when Campbell reports fiscal fourth-quarter results. In the interim, we will not speculate on the result of the review or comment on rumours."