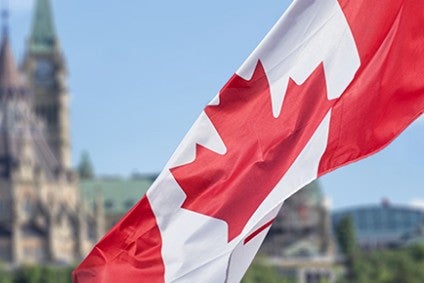 The organisation representing dairy farmers in Canada has reacted angrily to the signing of the successor to the NAFTA trade deal, which looks set to allow US dairy farmers greater access to the Canadian market.
The new trade pact, the United States-Mexico-Canada Agreement (USMCA), will provide US dairy farmers access to about 3.5% of Canada's domestic dairy market, despite opposition from the local dairy industry.
Following the agreement being signed at the weekend, the Dairy Farmers of Canada (DFC) said in a statement today (1 October): "This has happened despite assurances that our government would not sign a bad deal for Canadians. We fail to see how this deal can be good for the 220,000 Canadian families that depend on dairy for their livelihood."
News agency Reuters reported the Canadian government is prepared to offer compensation to domestic dairy farmers hurt by the deal but the DFC did not refer to this in its statement.
It added: "Granting an additional market access of 3.59% to our domestic dairy market, eliminating competitive dairy classes and extraordinary measures to limit our ability to export dairy products will have a dramatic impact not only for dairy farmers but for the whole sector."
In a later statement the DFC went further in expressing its disappointment with the Canadian government. Its president, Phil Lampron, said: "The announced concessions on dairy in the new USMCA deal demonstrates once again that the Canadian government is willing to sacrifice our domestic dairy production when it comes time to make a deal.
"The government has said repeatedly that it values a strong and vibrant dairy sector – they have once again put that in jeopardy by giving away more concessions.
"Today, the message sent to our passionate, proud and quality-conscious farmers and all the people who work in the dairy sector is clear: they are nothing more than a bargaining chip to satisfy President Trump."
Another Canadian dairy lobby groups – the Dairy Processors Association of Canada (DPAC) – has also spoken out against such a deal in recent weeks.
The country's dairy industry has been concerned about the country's system of supply management, which coordinates production and demand, while controlling imports, as a means of setting what it sees as more stable prices.
In the run-up to the deal being signed, Marcel Groleau, president of the Union des producteurs agricoles (UPA) and spokesman for the Movement for Supply Management, said: "The Government of Canada must resist the United States' unjustified demands and continue to deny concessions in supply-managed sectors. Our farmers must not pay for every trade negotiation. Enough is enough.
"Supply management in Canada generates more than 350,000 jobs. The dairy sector alone generates 221,000 and contributes CAD19.9bn (US$15.5bn) to GDP.
President Trump had threatened to leave Canada out of any new trade pact unless it agreed to new terms across a number of industries, including dairy.
Trump blamed NAFTA for the exodus of manufacturing jobs from the US to lower-wage Mexico. He had threatened to scrap the deal unless major changes were made to it.
After the new deal was signed, Canadian Prime Minister Justin Trudeau told reporters: "It's a good day for Canada."