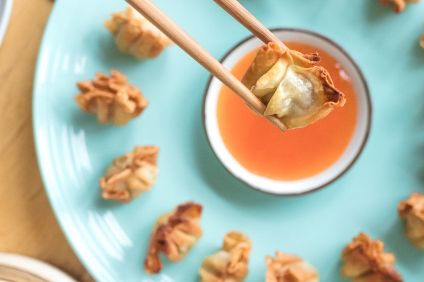 Fine Choice Foods, a manufacturer of Asian-flavoured appetisers to retail and foodservice channels in Canada and the US has been acquired by private-equity firm Swander Pace Capital.
Financial details of the transaction have not been disclosed.
Fine Choice Foods was founded in 1986 in Vancouver and is now based in Richmond, British Columbia. Its products, which include items marketed under its Sum-m! brand, are sold via North American retailers, including Costco, Loblaws, and Sobeys. The company also supplies the foodservice sector.
Products, including spring rolls, gyoza and wontons, are manufactured at the company's own facility where it employs more than 150 people.
Swander Pace Capital is a US and Canada-based private-equity firm specialising in investments in consumer product companies.
Speaking about the Fine Choice Foods deal, Swander managing director Heather Smith Thorne said: "As a leader in one of the fastest growing segments of an already dynamic industry, Fine Choice is a very attractive investment for us.
"What's more, the company's ability to bring innovative, Asian-inspired flavours to a diverse marketplace – using clean, high-quality, natural ingredients – has earned Fine Choice a strong distribution footprint and high customer loyalty."
The acquisition represents Swander Pace Capital's second investment in this category. In 2017 the firm acquired Passport Food Group, a California-based developer, marketer and distributor of globally-inspired appetiser, noodle and wrap products to the foodservice and retail channels.