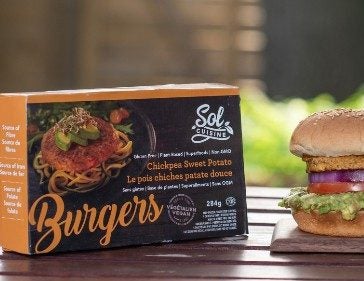 Canadian plant-based protein business Sol Cuisine has entered the Mexican market through a link-up with club store chain Costco.
Sol Cuisine's Buffalo Cauliflower Chik'n Wings will be available in all 39 Costco stores in Mexico from 23 August.
John Flanagan, CEO of Sol Cuisine, said: "Plant-based consumption in Mexico is growing rapidly with 20 per cent of the population claiming to be vegan or vegetarian and we see substantial opportunity for growth in the market.
"With over 700 locations in Canada, the US, Puerto Rico, and Mexico, gaining exposure to additional stores in the Costco network, and expanding the number of SKUs listed would be game-changing for the company and we look forward to continuing to build the relationship."
Missisauga, Ontario-based Sol Cuisine produces branded and private-label plant-based protein offerings including faux chicken and meat-free burgers, roasts and meatballs.
Its products are sold in more than 11,000 stores.
Speaking to Just Food in June, Sol Cuisine founder Dror Balshine said that as well as Mexico, the company is also looking at the possibilities of expanding into Europe, the Middle East and Asia.
Just Food interview pages: "I'm worried there may be too much of a pendulum swing" – Sol Cuisine founder Dror Balshine on the plant-based product surge