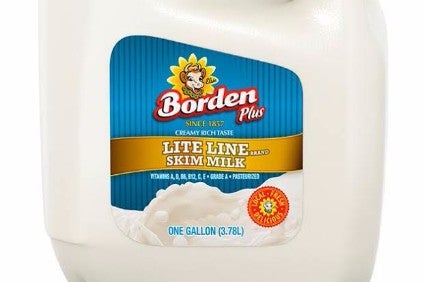 US-based investors Capitol Peak Partners and KKR have been cleared by a bankruptcy court to acquire the assets of Borden Dairy Company, which filed for Chapter 11 in January.
The two investment firms had been touted as potential buyers earlier in June but it has now officially emerged that Capitol Peak will become the new majority owner, while one of Borden's creditors, KKR, will take a minority holding, saving around 3,300 jobs.
Court approval was granted on Friday (26 June) in a deal worth around US$340m, according to a statement, which added Borden's former controlling and majority shareholders, private-equity firm ACON Investments and Mexico-based dairy business Grupo Lala, will no longer have an interest. Capitol Peak and KKR will now establish a new board of directors for Borden.
"Following the transaction, Borden will be appropriately capitalised, and the business will remain intact, including all plants, branches, routes and the Borden brand," the statement read.
Borden's chief executive Tony Sarsam added: "Borden received strong investor interest and multiple bids throughout this sale process, which is a testament to the terrific work the people of Borden have done to build a valuable and enduring 163-year-old brand.
"Despite being in the midst of Chapter 11 and a global pandemic, our team managed to generate positive cash flow, grow our customer footprint and maintain an uninterrupted food supply to nourish American families. We are exiting Chapter 11 as a thriving company that is meeting and exceeding its performance forecasts, making our outlook very promising."
The transaction is subject to "certain closing conditions" but is expected to be completed around mid-July.
Gregg Engles, the founder and head of Capitol Peak and a former CEO of another US dairy major, Dean Foods, said: "Borden has a rich history of partnering with America's dairy farmers and leading retailers to provide wholesome nutrition for American consumers and families. The Capitol Peak team is excited by this unique opportunity to work alongside KKR and build this iconic dairy company."
Borden's CEO Sarsam will step down in July once the transaction is completed and will be replaced by Engles, a spokesperson for the dairy firm confirmed.