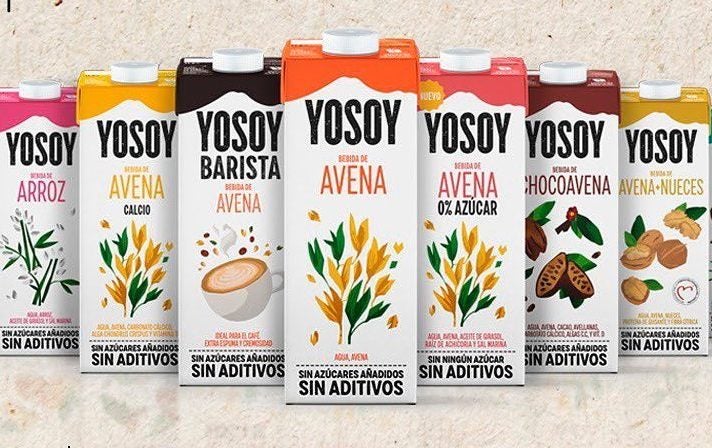 Capsa Food, a dairy business in Spain, has entered a plant-based partnership with local beverages maker Liquats Vegetals.
The companies have joined together in a "multi-category project" with the purpose to "promote plant alternatives through innovation", according to a statement.
Family-owned Liquats Vegetals, founded in 1991, produces a range of drinks made from oats, almonds, soy and rice. Capsa Food supplies milk, butter, cream and other dairy products, and also ingredients to food manufacturers. It supplies retailers such as Carrefour, Eroski and Condis, and is also present online at Amazon.
Laura Erra, the CEO of Liquats Vegetals, said: "This agreement will allow us to strengthen the value of the clean label for a healthier diet in our living standards and in the leadership and development of plant-based categories in Spain".
Just Food has asked Capsa Food for more specific details on the products that will be developed through the tie-up.
B-Corp certified Capsa Food generates a turnover of EUR738m (US$836.4m) and a net profit of EUR22m, its website shows. The company operates six factories employing 1,300 people and exports to more than 40 countries, as well as supplying the Spanish market.
Its brands include Central Lechera Asturiana, Larsa, ATO, 39ytu, Vega de Oro and Asana, while the firm also operates the Innova Food Ingredients arm. The products employ natural ingredients with no added sugars or additives.
José Armando Tellado, Capsa Food's general director, added: "This agreement reinforces the commitment of both companies to lead a food of the future: healthy, natural and sustainable."
Girona-based Liquats Vegetals produces the plant-based beverage lines Yosoy, Yosoy Ecológico, Monsoy, Almendrola and Natrue. It supplies the Spanish market and also exports to more than 25 countries.
Capsa Food, based in Asturias, took an undisclosed controlling stake in dairy peer Flor de Burgos in 2020.
Read Just Food's guide: The dairy companies also present in dairy alternatives