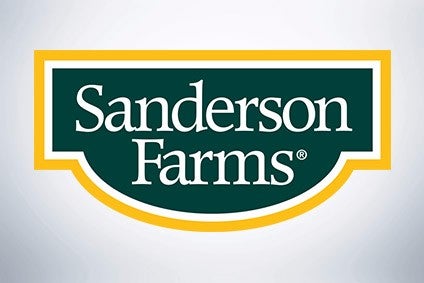 A deal for Sanderson Farms, one of the largest poultry processors in the US, has been confirmed for US$4.5bn as local meat processor Cargill and investment firm Continental Grain Co. join forces in the buyout.
Ending earlier speculation that a transaction was imminent, Cargill and Continental Grain have reached a definitive agreement for a joint venture to acquire Sanderson Farms for $203 a share in cash.
The business will become a private operation and will be delisted from the Nasdaq stock exchange to be run by Clint Rivers, the current CEO of Continental Grain's portfolio company Wayne Farms, which claims to be the seventh-largest poultry processor by volume in the US with about $2.2bn in sales.
Wayne Farms will be combined with Mississippi-based Sanderson Farms, which generated sales in its 2020 fiscal year of around $3.5bn. The deal is expected to close either by the end of the year or early in 2022.
"The new company will be well positioned to enhance its service to customers across retail and foodservice and drive organic growth in an industry fuelled by affordability and key consumer trends around the health, sustainability, and versatility of chicken," according to a joint statement issued today (9 August).
Joe Sanderson, the chairman and CEO of Sanderson Farms, said: "We are proud to be joining with Cargill and Continental Grain and we are confident that they will be strong stewards of the Sanderson Farms team, brand and assets going forward. As part of the newly created company, Sanderson Farms and its new owners will remain committed to the employees, poultry producers, customers, communities, environment, and animals under our care, and to continuing to deliver the highest quality products and the best service in our industry to our customers."
In October last year, Sanderson rejected an "unsolicited" takeover proposal from New York-based investment firm Durational Capital Management.
Sanderson said at the time its board had "unanimously" dismissed the approach by Durational Capital, an investor focused on consumer goods which is a shareholder in the business.
Combined operations under the deal will include poultry processing plants and prepared foods facilities across Alabama, Arkansas, Georgia, Louisiana, Mississippi, North Carolina, and Texas.
"With these great businesses, and our strong partnership, we believe we will deliver a superior portfolio of products and services to our customers," David MacLennan, the chairman and CEO of Cargill, said.
Both Cargill and Continental Grain said they have committed equity and debt financing to complete the transaction.
Paul Fribourg, the chairman and CEO of Continental Grain, added: "We are very happy to partner with Cargill with whom we have had a decades-long relationship between two family-owned companies. Wayne Farms has been one of the most important and successful parts of Continental Grain for almost 60 years, so bringing together two great partners with two great poultry companies will ensure good things for our customers, our grower partners, and our employees."