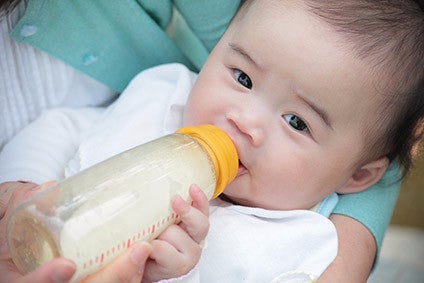 US cell-cultured breast milk firm Biomilq has raised US$21m in a Series A funding round led by life-science investor Novo Holdings.
North Carolina-based Biomilq will use the funds to support the development of "pioneering mammary biotechnology to bring a novel infant-feeding option to market that better meets infants' nutritional needs".
Earlier this year, the company announced it had successfully produced a milk product with many of the same macronutrients that are known to be abundantly present in breast milk in its lab.
In the US, it is estimated that 75% of women are unable to exclusively breast-feed for the six months after birth as recommended by the American Academy of Pediatrics and the World Health Organization for various reasons.
Biomilq suggests alternative supplements, such as bovine-based infant formula, can lack the nutritional and bioactive composition found in breast milk.
Michelle Egger, the company's CEO and co-founder, said: "We are very pleased to have such experienced investors in our Series A financing. Novo Holdings, as a leading international life-science investor, lends significant market experience and technical knowhow to Biomilq's mission to nourish healthier infants, empower parents through choice and contribute to a healthier planet."
Kartik Dharmadhikari, partner at Denmark-based Novo Growth, which comes under Novo Holdings is now a Biomilq board director.
He said: "We are delighted to support Biomilq through its journey pioneering mammary biotechnology. Its products have the potential to disrupt the infant supplemental feeding industry. We aim to use our scientific knowledge, operational expertise and global network to further strengthen the company's ability to improve lives."
Also participating in the investor syndicate were Breakthrough Energy Ventures, Blue Horizon, Spero Ventures, Digitalis Ventures, Green Generation Fund and Gaingels.
In June last year, Biomilq raised $3.5m in funding from backers, including the aforementioned Breakthrough, an investor consortium featuring Microsoft founder Bill Gates and Amazon founder Jeff Bezos.