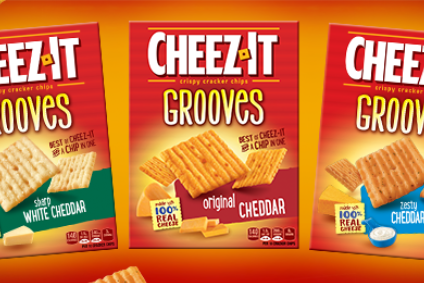 Kellogg has sought to reassure the market its decision to move the distribution of its US snacks from a direct store delivery (DSD) network to a warehouse model is beginning to pay off.
Speaking at this week's Barclays Global Consumer Staples Conference, Deanie Elsner, the president of Kellogg's snacks business, said: "This has been a complex project, difficult to manage. What you can expect though is a slightly smaller, more focused business that is stronger and more profitable."
Kellogg announced plans to change the delivery model for its US snacks business to cut costs, boost margins and drive growth in February. The company said it was also a response to the way consumers in the US shop now, fragmenting purchases across different channels.
Elsner said: "Many of our assets, many of our resources have been tied-up in the route-to-market called DSD. And so, we've been inflexible in terms of how we can reallocate those resources to drive a differentiated position in the marketplace."
But Elsner admitted it has not been an easy process and it is the aspect of the company's future business model that gets the most attention from analysts.
"The biggest, most visible part of our transform phase and the thing that gets a lot of questions and talk time is our exit out of DSD," she said.
Elsner said a crunch time for the transition was the month of August.
"I call this as kind of our ugly period. If there's a period where things look really bad, it's the month of August because we exit our DSD at the beginning of the month," she said.
"We exit our merchandise at the beginning of the month. We shift to a new warehouse model. And we have not yet completed the shift all the way through to our customer on shelf and training them how to now manage the shelves that we are no longer shelving."
But she said a lot of the hard work has been done.
"The good news is of the stage gates in this project, we are through the majority of the difficult stage gates," she said.
"We've negotiated with our customers one by one. We've agreed to terms on how we're going to readjust the price when they do the cost to serve in-store. We've also agreed on assortments. We've also agreed on the SKU rationalisation, and we began to do the SKU rationalisation within our organisation."
Elsner said Kellogg is 100% warehouse-distributed and predicted the outcome will be a leaner, more profitable company.
"You will see our displays down tremendously. You will see our average price up. You will see our weeks of merchandising down because we couldn't risk disrupting this shift and drive merchandising in-store," she said.
"So, we chose to pull back as did our customers. That's what's showing up in the numbers today. We also pulled products off our shelf while we reset the prices. And so, that's what's going on to the numbers today. That's going to get us to less of a tail to deal with as of front half of 2018."
Elsner said what remains will be a "less complex portfolio that is actually more focused and more scaled on primary displays. That is a smaller, more focused organisation. Our businesses will be stronger, though, because we're increasing our investments".