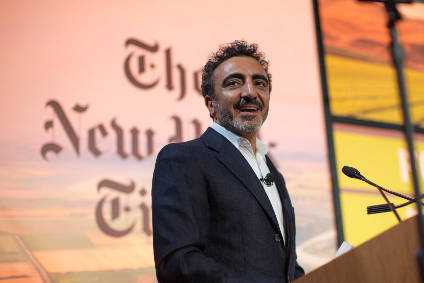 US yoghurt maker Chobani, which last year launched an incubator programme for six start-up food businesses, is to hold the scheme again and has invited applications for consideration.
The latest iteration of the programme, which will be based in New York, will run from September to December. Successful applicants benefit from access to the Chobani team's expertise, as well as other "industry leaders", the company said.
A place on the programme also offers participants a $25,000 grant to help grow their business, travel and other expenses are covered and advice available on branding and marketing, team building, sales and retail strategy, nutrition and food labelling and innovation and manufacturing.
Chobani's founder and CEO, Hamdi Ulukaya, launched the Chobani Food Incubator last year with the aim of helping to support food entrepreneurs in setting up their businesses and encouraging them to challenge the established food industry. Pasta firm Banza, jerky snacks purveyor Chops Snacks and organic chocolate maker Cissé Cocoa Co. were among the six companies to be involved in the incubator programme first time around.
"People are rejecting the way Big Food is doing things," Ulukaya said today (10 May). "It's creating a special moment for food start-ups with big hearts and big ideas to challenge how things are done. We're searching for entrepreneurs who are passionate about getting more natural, more accessible and more creative foods out there, and who are driven by a purpose and mission to make the world better."
Last summer, Chobani underlined how its incubator was "a-no-strings-attached programme" but admitted it was ready to consider taking a stake in businesses that emerge from the incubator. "We would absolutely not close the door on anything," a spokesperson said at the time.
Members of the so-called group of Big Food companies in the US have sought to tap into emerging consumer trends via a series of methods, most commonly in recent quarters with the establishment of in-house investment arms.
General Mills, for example, has been active, making a number of investments through its 301 Inc division. Most recently, the Cheerios manufacturer ploughed $3m into Purely Elizabeth, which supplies oatmeal, muesli, granola and cereal, for an undisclosed minority stake in the business.
Chobani is among the largest yogurt companies in the US by market share. In March, the privately-owned business named former Nestle executive Tim Brown as its new president and COO.