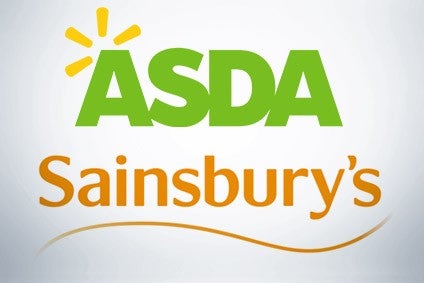 UK big four supermarkets Asda and Sainsbury's have won their fight to have discount retailers Aldi and Lidl included in the Competition and Markets Authority (CMA)'s investigation into their planned merger.
It was originally thought that the enquiry into whether the two supermarkets would have an unfair advantage over the competition if the merger were to be approved would consider only the big four supermarkets (Morrisons and Tesco being the other two) but Asda and Sainsbury's argued that this would give an unrealistic view of the market given the rise of the discounters and other emerging grocery outlets and channels.
Now the CMA has concurred with that view. In a statement issued yesterday (16 October), it set out the key areas it expects to scrutinise, at both a local and national level – including groceries, bought both in-store and online, fuel and other items such as toys, small electricals and children's clothing.
It said: "The level and impact of competition presented by newer or growing retailers – including Aldi and Lidl – will be considered alongside these issues, as well as whether the merger could make it easier for supermarkets to align their commercial decision-making, leading to less vigorous competition."
The investigation will also include online retailers such as Ocado and Amazon as well as retail chain B&M and Waitrose owner John Lewis & Partners.
Asda and Sainsbury's will be hoping that the broadened scope of the enquiry will make it more likely that it can proceed with the need for a large-scale sale of supermarkets.
"In addition, the CMA will examine any potential efficiencies that might result from the merger and whether such savings might be passed on to shoppers."
Specifically, it will look at whether the merged company could use its increased buyer power to squeeze suppliers and if this could have a potential knock-on effect for shoppers.
Stuart McIntosh, chair of the independent inquiry group carrying out the in-depth investigation, said: "Millions of people shop at Asda and Sainsbury's every week so it is essential we carry out a thorough investigation into their proposed merger. Our job is to find out whether the merger will result in people paying more or being faced with less choice or a poorer quality shopping experience."
Asda and Sainsbury's announced their plans to merge back in April. It would see Sainsbury's taking over Walmart-owned Asda in a GBP7.3bn (US$9.6bn) deal.
The CMA announced its decision to refer the deal for an in-depth (phase 2) investigation on 19 September.
It expects to issue its provisional findings early next year, ahead of the statutory deadline for its final decision on the 5 March 2019.