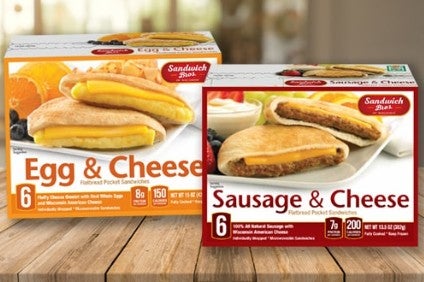 US food group ConAgra Brands is buying local peer Sandwich Bros. of Wisconsin for an undisclosed sum.
Founded in 1979, Sandwich Bros. produces frozen breakfast and flatbread sandwiches for nationwide grocers, convenience stores, merchandisers and private-label customers using ingredients such as 100% Angus beef and chicken free from antibiotics.
The purchase is set to be completed early in the new year, subject to regulatory approval, according to a statement today (21 December).
Conagra's latest acquisition adds to Angie's Artisan Treats, the maker of the Angie's Boomchickapop popcorn brand, a deal the company sealed in September after it was said to be bidding for US peer Pinnacle Foods earlier in the year.
Conagra, which also reported first-half sales of US$3.98bn today, counts Marie Callender's, Reddi-wip, Hunt's, Healthy Choice and Slim Jim among its brands.
Sean Connolly, the president and chief executive of Conagra, said: "Adding the Sandwich Bros. business to our portfolio is another step in Conagra Brands' ongoing work to accelerate growth. This acquisition will bring Conagra unique capabilities and expertise within the frozen handheld category, which we look forward to leveraging for further growth and extension into additional Conagra brands."
Sandwich Bros.' president, Salem Kashou, said Conagra will help accelerate its business growth after netting sales of US$60m in the year ended in November.
Kashou added: "We are very pleased with Conagra's shared enthusiasm of Sandwich Bros. and know they have the resources and expertise to continue our legacy. Our incredible growth over the past five years is attributed to the contributions from our loyal employees, business partners and consumers."