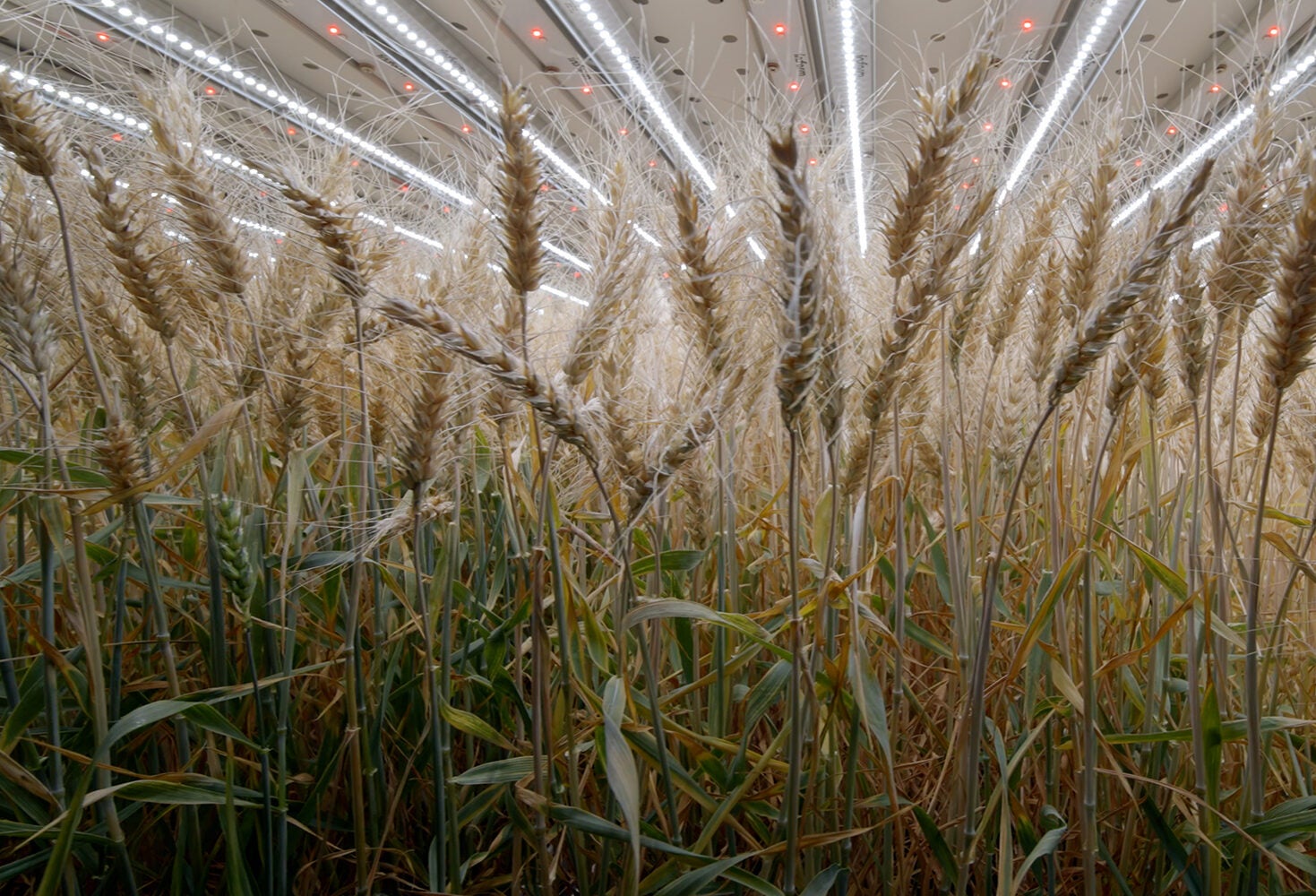 Vertical-farming business Infarm has published the results of a wheat-growing trial to the COP27 summit in Egypt as the German firm seeks to drum up backing for commercialisation.
The Berlin-based company, regarded as a vertical-farming pioneer in Europe, has trialled the production of wheat in its indoor R&D laboratory and projects superior yields to the field-farmed crop in a scaled-up scenario.
Infarm, set up in 2013, said in a statement: "The first trials demonstrated exceptional results, allowing a projection of 11.7 kg per m2 yield per year. Further projected at scale, this is the equivalent of 117 tonnes per hectare per year – 26 times that of open-field farming yields."
It is a bold step in what is still a relatively nascent industry only just expanding beyond fresh leafy greens and herbs into berry-type fruits and basic vegetables like mushrooms. High input costs – technology and energy – also tend to make on-shelf prices more expensive than traditional produce, presenting a challenge for wheat grown in a system providing environmental benefits.
The business, which is co-hosting the Food Systems Pavilion at COP27 in Sharm El Sheikh, claims to be "the first vertical-farming company to tackle staple crop production in a controlled environment".
Infarm plans to use the summit to emphasise the governmental and institutional financial support that many industry participants argue is needed for the alternative-farming technique to become more mainstream, cost competitive and profitable.
"Our first step is to make governments and financial institutions aware of the tremendous potential of indoor vertical farming to enhance climate resilience and food security," a spokesperson for Infarm tells Just Food. "This will help pave the way for the sector to access government grants and subsidies, in addition to private investment."
Scientific endeavour
Proponents argue controlled environment farming offers some benefits over traditional agriculture such as eliminating the use of soil, less water usage and fewer land resources, zero pesticides and greater yields because of year-round cultivation assisted by artificial lighting.
However, traditional wheat farmers might be opposed to the prospect of competition from a crop grown in a controlled indoor environment, a particular challenge in countries where cereal crop production is government subsidised.
"Scaling this project and commercialising indoor-farmed wheat is a significant scientific and engineering endeavour," the Infarm spokesperson said. "Though the technology is feasible, further research and development is necessary to grow wheat commercially and we will continue to focus on that."
In the wider context, Infarm's co-founder and CEO Erez Galonska told Just Food in May: "Even when you look at COP27 and beyond, we are already speaking with policymakers, NGOs, with different kinds of organisations, to help us galvanise people to start and think about what we eat, what the supply chain is going to look like in the future, where food is going to be produced, the insecurity of food, what we can do and what we can't do – the role of grants, subsidies, and regulatory issues."
With COP27 now underway, Galonska said in the statement: "Being able to grow wheat indoors is a milestone for Infarm and of significant importance for global food security, as wheat is a calorie-dense but resource-intense crop that is a core component of diets worldwide."
Infarm added via the spokesperson: "This trial was the first step and successfully demonstrated the potential of producing wheat in an indoor farm. This proof of concept can now be used to develop a path to commercialisation. Food security is a huge issue here at COP27, following climate shocks and the supply issues of the Ukraine war, and governments are looking at ways to ensure a more food-secure future."
Just Food analysis, summer 2021: Indoor farming and the prospects for profitability