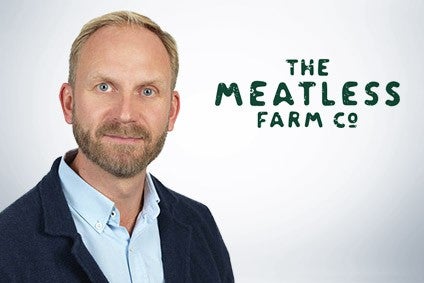 The Meatless Farm Co. has reported a spike in retail sales, which has offset the drop the UK meat-alternatives supplier has seen from a foodservice sector that has largely closed amid the coronavirus crisis.
Morten Toft Bech, the founder of The Meatless Farm, said the Leeds-based company had had a "record March" both in its domestic market and in the US, where the firm, set up in 2017, has been building its business in recent months.
Toft Bech, who has recently become The Meatless Farm's "de facto" CEO after replacing Kellogg executive Rob Woodall at the helm of the company, said the firm is still looking at how to grow internationally even while dealing with the impacts of the coronavirus pandemic, with an eye on Asia and plans to raise more funding later in 2020.
"Sales are going very, very well," Toft Bech told just-food, outlining how The Meatless Farm's co-manufacturer in the UK had made changes to its production in the face of growing demand. "The factory's running on three shifts non-stop at the moment in order to keep up with demand. I guess we are in a fortunate position to be on the right side of the table in what's going on right now. At the same time, as you know, not everyone is having a good time."
The Meatless Farm generates around 65-70% of its sales from retail customers, with the remainder through the foodservice channel. Toft Bech said the rise The Meatless Farm had seen in retail sales had more than compensated for the slump in foodservice sales as outlets closed amid government lockdown measures.
"Traditionally, our mince is our best-selling product, I would say. It would be around 40% of total sales. What we've seen over the last few weeks, and particularly the last two weeks in the UK, is the pick-up in burger volumes has gone up a lot," Toft Bech said. "I think that's short term. It's easy cooking at home. The kids want something to eat that's fast for the family to cook and burgers is an obvious choice. We've seen that sort of outgrow the mince sales but I would assume that's a temporary thing and then we will return more to the normal patterns again.
"And hopefully we can continue to develop these QSR relationships that we liked so much. Right now, it's all very quiet, isn't it, on restaurants. The poor restaurants are having to be shut down but we can only hope that they will very soon be allowed to open up their doors again."
The Meatless Farm's production partner in the UK city of Nottingham is the company's sole manufacturer. However, Toft Bech said "within the next six months" the company is eyeing the start of additional production in Europe and in North America.
On the prospect of a manufacturing base in Europe, Toft Bech said: "There are multiple elements that [come into] play here in terms of those decisions. One is the volumes that we're starting to see and they need to ramp up throughout the key focus markets in Europe, [which] right now for us are Scandinavia, Germany and the Benelux. You want to see volumes coming there, which are meaningful enough for us to switch it on. We will switch it on as soon as we see the volumes justified which is very close, but so far, we can still manage it out of Nottingham."
He added: "As a business, we look into sustainability and how we can actually improve a lot of different things in the manufacturing process. Right now, we are essentially producing and sending in shipping containers with frozen product to the US and then distributing it over there. That obviously is something that doesn't make long-term sense, so we are close to starting to produce in North America as well, which will help greatly in terms of us not moving unnecessary product around the globe."
The Meatless Farm has offices in Leeds, New York, Amsterdam and, most recently, Singapore. Looking ahead, Toft Bech highlighted the prospects the company sees in Asia Pacific. "We keep investing and we keep seeing opportunity everywhere for plant-based. We've seen that there is a lot of opportunity out there," he said.
In September, The Meatless Farm announced it had secured a "seven-figure" investment deal with TV broadcaster Channel 4. Toft Bech said the company is aiming to raise more cash for expansion later this year.
"We will be out raising a rather large amount of money by Q4 once we have coronavirus behind us and we have sales to support our business story and our valuation," he said. "That's definitely on the cards as well."
In December, The Meatless Farm added to its executive team with the appointment of former Lidl boss Jesper Højer as chairman. The same month, another former Kellogg executive, Michael Hunter, was named chief growth officer.
"[Rob Woodall's] still involved in The Meatless Farm but he's no longer in the daily operations because we've added a whole new layer of our lead team. We've actually taken on Jesper Højer, who was the old CEO of Lidl, as our chairman. Then we have Michael Hunter, who was actually also an ex-Kellogg's guy. He was globally responsible for sales and had led up the Morningstar Farms [Kellogg's meat-free brand] initiative. In these times and in growth, I think it was felt that I needed to step up as the founder and act as CEO as well. So here I am," Toft Bech said.