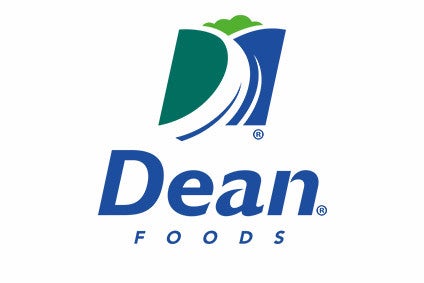 Dairy Farmers of America, singled out as the so-called stalking horse bidder for select assets of bankrupt milk processor Dean Foods, said it is weighing up whether to remain in the running.
Kansas-based cooperative Dairy Farmers of America (DFA) made the announcement after Dean Foods, which filed for Chapter 11 bankruptcy in November, revised the bid parameters, including withdrawing the provision given to DFA.
In February, DFA revealed it had agreed to buy a "substantial portion" of Dallas-based Dean Foods assets for US$425m, including 44 of the company's plants and its direct-store-delivery systems. The stalking horse bid assigned to DFA was designed to set the floor for any other interested parties looking to put in a counter offer for the same assets, with that deadline set for 31 March.
Monica Massey, the executive vice president and chief of staff for DFA, said in a statement sent to just-food Dean Foods had "requested to go forward with different bid procedures, and DFA has agreed".
A new deadline has been set for 30 March for both DFA and any other interested parties.
Dean Foods said in a statement: "Dean Foods and DFA's mutual decision to withdraw the request for DFA to be approved as a stalking horse bidder does not mean DFA has removed itself from the bidding process.
"Dean Foods simply believes that, by avoiding unnecessary litigation regarding procedure and bid protections for DFA, all parties involved, including DFA, will focus on developing competitive and value-maximising bids."
Massey added: "DFA is re-evaluating our options, given current circumstances, to bid on Dean's assets by the 30 March deadline. We believe any bid we submit will benefit all dairy farmers as no one has a greater interest in preserving milk markets than we do."
DFA is owned by 14,000 farmers. Back in February, the co-op said with respect to saving Dean Foods that "it is important to ensure continued secure markets for our members' milk and minimal disruption to the US dairy industry".
Before filing for Chapter 11, Dean Foods, one of the largest milk processors in the US, had been struggling financially for some years as fluid milk consumption continued to decline. Its huge number of factories had also been a burden despite whittling those down in recent years, while it was also considered to have too many milk brands without a nationally recognised milk label.
And competition in private label, which accounted for around half of Dean Foods sales last year, was putting additional challenges on the business.
DFA added in its update: "Ultimately, whether we end up with facilities or they are purchased by other parties, DFA remains committed to preserving milk markets for our members and limiting disruption to the industry."
Dean Foods added: "Dean Foods anticipates DFA will submit a bid by the court-imposed 30 March bid deadline."
It continued: "Dean Foods has had extensive discussions with all interested parties regarding this decision, and has received broad support on this modified order. We are pleased to proceed to the next step of this process and look forward to a successful auction."
See just-food's analysis: Dairy Farmers of America deal for Dean Foods leaves questions unanswered